Five big questions about Trump and the riot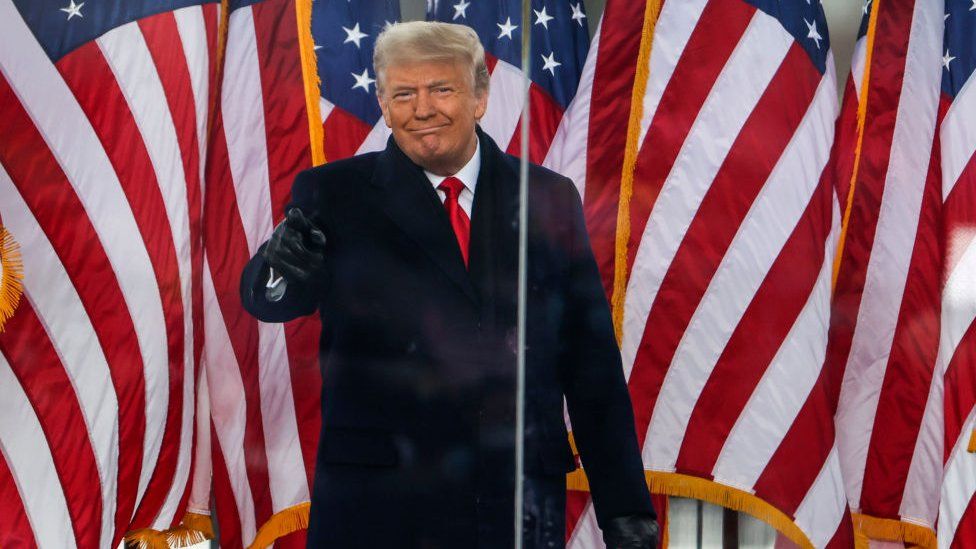 It has been nearly a year since a mob of Donald Trump supporters stormed the US Capitol in an attempt to halt the certification of Joe Biden's presidential victory. The most comprehensive account of the events leading up to and during that day is still ongoing, the focus of a special House of Representatives committee set up for that purpose.
Established in a contentious 1 July House vote after attempts to create an independent inquiry failed, the committee – made up of seven Democrats and two Republicans – has conducted more than 250 interviews and issued at least 45 subpoenas over the course of its investigation.
According to committee members, most of those contacted have agreed to co-operate. A handful of those closest to Donald Trump, however, have resisted. They've cited executive privilege, a legal principle that protects candid communications between presidents and their advisors. Two so far, Trump confidante Steve Bannon and former White House Chief of Staff Mark Meadows, have been cited for contempt of Congress by the House. Bannon is facing a criminal trial next year. Others, like former Trump advisor Roger Stone and Trump ally Alex Jones have invoked the Fifth Amendment to avoid answering questions on their role.
As its investigatory work — and legal battles — continue, there are a number of gaps and key questions that the committee is seeking to address. Here are a few of the most pressing ones.
How involved was the White House in organising the 6 January rallies?
Bennie Thompson, the chair of the congressional investigation, recently set out some of what his committee is trying to learn about the Washington DC rallies that served as a precursor to the attack on the Capitol.
"We need to know who organised, planned, paid for and received funds related to those events, as well as what communications organisers had with officials in the White House and Congress," he said.
One of those organisers, far-right conservative activist Ali Alexander, has already testified to the committee — and said he was in touch with the White House and Republican members of Congress ahead of time.
The exact nature of these contacts have yet to be publicly revealed.
["source=bbc"]