Fox News to drop host Bill O'Reilly after harassment cases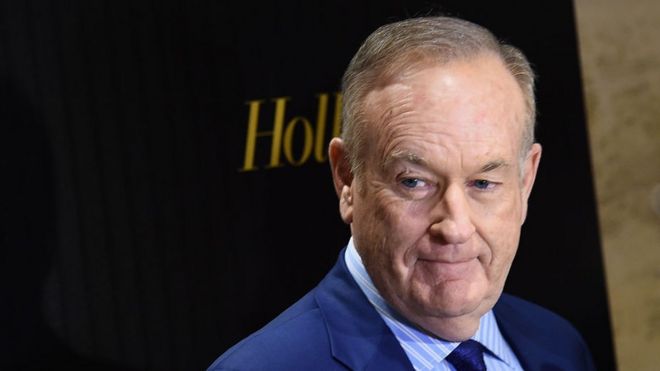 Fox News is reportedly about to drop the country's top-rated cable news host, Bill O'Reilly, amid claims he sexually harassed female colleagues.
The Wall Street Journal – owned by Rupert Murdoch, who also owns Fox News – reports the network is "preparing to cut ties" with the presenter.
Pressure on Fox has mounted since recent reports that five women received $13m in payouts because of Mr O'Reilly.
More than 50 sponsors have withdrawn ads from his show, The O'Reilly Factor.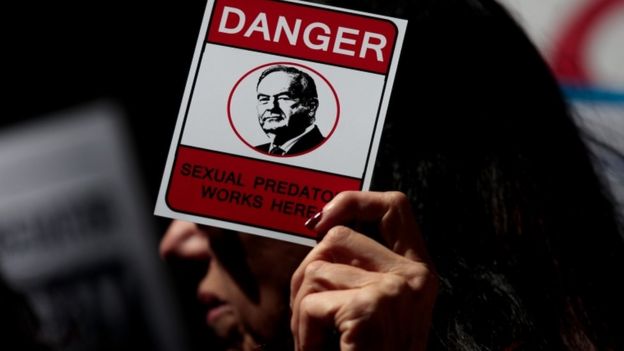 US media report that the board of 21st Century Fox will hold a meeting about the matter on Thursday.
According to New York Magazine, executives were holding emergency meetings on Wednesday morning to discuss how to get rid of Mr O'Reilly.
The presenter, who has been with the network almost since its inception, has denied all of the allegations.
On Tuesday evening a lawyer for a former African-American clerical worker at Fox alleged her client had been harassed by Mr O'Reilly in 2008.
Lawyer Lisa Bloom said the Fox News host had referred to the unidentified woman as "hot chocolate".
"He would leer at her," said Ms Bloom. "He would always do this when no one else was around, and she was scared."

Analysis: Anthony Zurcher, BBC News, Washington
The sexual harassment charges against Bill O'Reilly aren't new. They've bubbled up before and have been quietly ushered from view, thanks to multimillion dollar legal settlements.
Now, however, they appear poised to bring the top-rated conservative talk show host down.
So what changed? Was it lurid details of his alleged behaviour? The protests? Commercial sponsors abandoning his show? The impact the scandal could have on 21st Century Fox's attempts to purchase European broadcaster Sky?
All probably contributed to O'Reilly's impending exit. The crack in the proverbial dam, however, came when Fox News head Roger Ailes was sacked for his own sexual harassment scandal.
If Mr Ailes, who built the conservative television empire, could be laid low by his tawdry behaviour, no one was untouchable – even Mr O'Reilly.
Welcome to Fox News in the Donald Trump era. Mr Ailes is out. Mr O'Reilly is nearly gone.
Presenter Megyn Kelly has bolted to NBC. The only giant left standing is Trump super-fan Sean Hannity.
A network that defined itself by blanket opposition to Barack Obama now appears adrift, challenged by more aggressive conservative media outlets and toxic to the left.
It's a tricky position to occupy – a victim of its own success… and hubris.

Mr O'Reilly's attorney, Marc Kasowitz, said the latest accusation was part of a "brutal campaign of character assassination that is unprecedented in post-McCarthyist America".
Mr Kasowitz said this was being driven by "far-left organizations bent on destroying O'Reilly for political and financial reasons".
[Source:- BBC]