Lotan Chole Kulche: An Old Delhi Delicacy Cherished by Street Food Lovers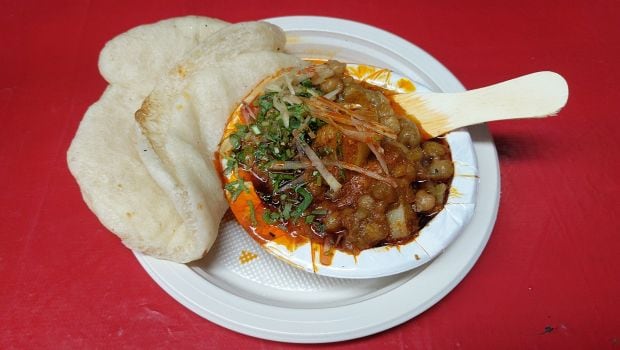 Chola-Kulcha is a very popular street food item in Delhi that is relished by everyone. From school kids to office goers, everyone seems to enjoy this masaledaar street food
snack that is more like a meal in itself. This combination of boiled chickpeas (chole) and a soft white flour bread (kulcha) is served garnished with chopped onions, juicy tomatoes, powdered spices and a generous squeeze of lime. With everyone having a recipe of their own, this dish usually tastes different depending on the street vendor you choose.
Set in the interiors of Old Delhi in the labyrinth of tiny passages is a man sitting with an arsenal of masalas around him busy stirring his art in a cauldron surrounded by local crowd relishing every bite of it. He scoops out chole from a copper vessel, tops it with aloo and masala (the red spicy concentration with a choice of less, medium, or "at your own risk"). Then, he adds to it a spoonful of aamchur-chutney
, a sprinkle of garam masala
and a garnish of hara dhanya (coriander), mooli (white raddish) and finely chopped ginger to top it off, placed along side a pair of fluffy kulcha.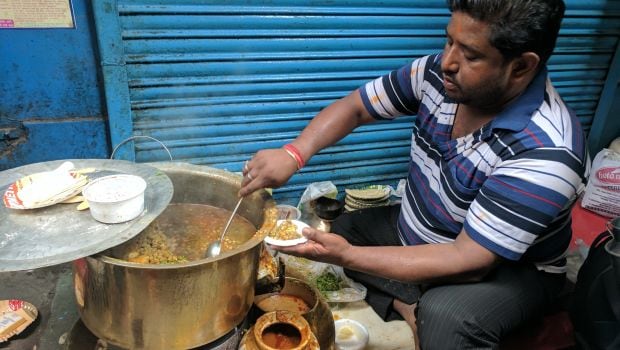 The chole here are top of the pile. For those who love spicy food, this is as good as it gets. Though the medium one is spicy enough, the hot one is a must try for all those who can tolerate a heavy dosage of red chilli. The dish is exquisitely prepared and a dollop of butter makes it even better, and is highly recommended for the not so calorie conscious or perhaps the adventurous foodie.
Serving people with soulful food made with his secret recipe every morning since 1920, this tradition is being carried forward by Lotan's grandson, Mahaveer. "We have never thought of expanding into franchises or moving into shops but are content with serving in the tiny lanes of Chandni Chowk
and delighting our customers with good quality and tasty food" says, Mahaveer.
Along with chole-kulche, this shop also serves chana soup, with a butter cube added giving an extra flavor to it. There is no proper sitting arrangement and one can find a crowd  buzzing around Mahaveer at any given time patiently waiting to get their hands on the delicious Chole Kulche. Also, navigating one's way to Lotan might not be an easy task but with locals guiding you through, its surely worth the pain.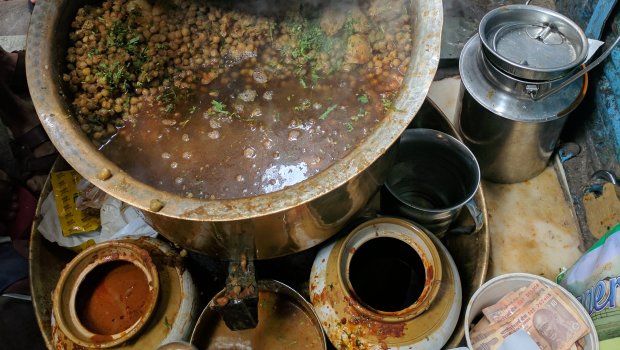 I have been coming here since the past 30 years. The spiciness and the masalas used by him is what makes his Chola-Kulcha unique and I absolutely love the way these people have maintained their food quality without commercializing it as a big brand. Mahaveer sits in Chatta Shah from 7:30 am to 10:30 am and after that you can find him between 11:00 am to 2:00 pm behind commercial school in Darya Ganj.
Address:  2363 , chatta shahji , chawri bazar , Delhi 6
Time: 7.30 A.M. to 10.30 A.M.
Cost: 50-100 for two (approx)
["source-food.ndtv"]