New education policy draft hailed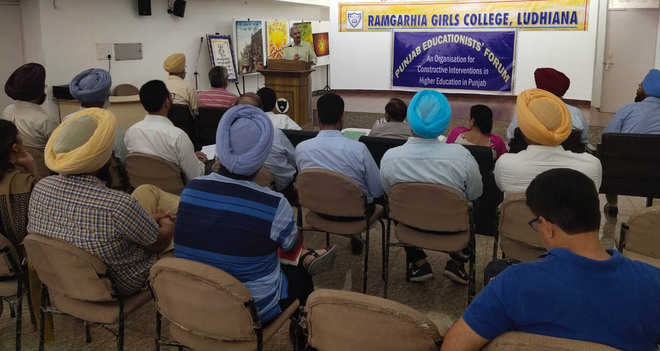 Ludhiana:
The Punjab Educationists' Forum organised a round-table discussion on "NDA's new education policy" draft at Ramgarhia Girls College today.
Principal Inderjit Kaur and president Ranjodh Singh of the Ramgarhia Educational Council extended a cordial welcome to the guests.
The forum discussed in detail the proposed draft of the new education policy of the National Democratic Alliance. The forum hailed the merits of the new education policy, which included a change in the age for the Right to Education, from the age of three years to 18 years upto 2030, and the provision of early childhood care from age of three to six years by the institutions.
The institutions will take care of the well-being of a child's nutrition, health and education. The positive aspects of policy to increase public funding to education, increased funding to research to the tune of Rs 20,000 crore, its policy of inclusiveness, categorisation of educational institutions, doing away with adhoc system of employment, stress-free examination system, multiple exit and entry points offered in higher education, raising GER (general enrolment ratio) in higher education by 50 per cent upto 2030, among others.
The participants criticised the policy to dismantle the already existing educational apex institutes such as the University Grants Commission, creation of a Higher Education Council headed by the Prime Minister with an inclusion of 50 per cent ministers in it, its policy of disaffiliation of colleges from universities. Under the draft of the new education policy, monitoring of private educational institutions is not clear. It seems that under new education policy, private institutions will flourish by charging hefty fees from students.
The forum strongly desired that the NDA government fulfil the commitments made in its manifesto of spending 6 per cent of GDP on education, which is less than 4 per cent presently. The forum also had apprehensions about the funding of education in a federal country where states have little resources. The success of such policies depends upon the funding of the Union Government.
The forum also had concerns about the gap between declarations of the NDA government and its real practices such as the accreditation of Reliance University as an institute of academic excellence, with grant of Rs 10,000 crore to a university which is yet not established.
Decisions favoured 
Change in the age for the Right to Education
Provision of early childhood care from age of 3 to 6 years by the institutions increase public funding to education
Increased funding to research to the tune of Rs 20,000 crore
Categorisation of educational institutions
Doing away with adhoc system of employment
Stress-free examination system
Multiple exit and entry points offered in higher education raising GER in higher education by 50%
…Criticised 
Dismantling the already existing educational apex institutes such as the University Grants Commission
Creation of a Higher Education Council headed by the PM with an inclusion of 50% ministers in it
Policy of disaffiliation of colleges from universities
Monitoring of private educational institutions not clear
It seems private institutions will flourish by charging hefty fee
["source=tribuneindia"]