UK inflation steady at 2.3% in March business live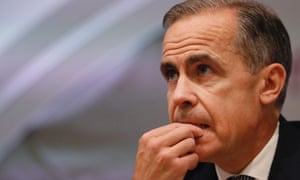 2h ago12:07
Should the Bank of England raise interest rates? The answer is complicated, writes Larry Elliott:
It seems so obvious. The Bank of England sets interest rates to hit the government's 2% inflation target. Inflation is currently 2.3% and – despite holding steady in March – is certain to go higher over the coming months. Higher borrowing costs choke off inflationary pressure. Therefore interest rates should now be going up.

In reality, it is a bit more complicated than that. The first thing the nine members of the Bank's monetary policy committee have to decide is whether the above-target inflation seen in the last couple of months is a temporary blip. It's quite clear it isn't. Food is going up, energy companies are raising their tariffs, retailers are passing on the higher costs of imports caused by a weaker pound.

Last month's inflation figure was flattered by the timing of Easter, which led to a sharp fall in the annual cost of air fares. That one-off factor will be reversed in April. The question is not whether inflation will continue rising in 2017 but how high it will go. At least to 3% is the answer, perhaps a bit higher.

The next thing for the MPC to consider is whether there is a risk of inflation becoming entrenched. That would happen if rising prices led to workers successfully negotiating higher wages to compensate them for the hit to living standards. There seems little sign that inflation will feed on itself, as it did in the 1970s.
His full analysis is here:
2h ago11:50
Here's our report on the inflation figures:
Rising food and clothing prices kept Britain's inflation rate at its highest level for more than three years last month, putting household budgets under pressure as the Brexit effect on the pound worked its way through the economy.

Official figures put inflation on the consumer prices index (CPI) at 2.3% for the second month running in March, in line with economists' forecasts, as food prices rose at the fastest pace for three years, increasing 1.2% on the year.

Economists said inflation was likely to push higher in April and they warned the rising costs of essentials such as groceries were already eating into households' budgets and leaving them with less cash to spend on other items. Reports from retailers suggest sales have slowed in recent months.

"Today's release confirms our expectations that 2017 will see the end of the consumer spending boom which has driven economic growth in recent years," said Nina Skero at the consultancy the Centre for Economics and Business Research.

"With the prices of essentials such as housing costs, food and transport on the rise, less money will be left over for discretionary spending. This is especially true given that wage growth is unlikely to keep up with the elevated inflation levels."

With the pound now fairly flat against the dollar in the wake of the inflation numbers, the FTSE 100 is pretty buoyant, up 44 points or 0.6%.

The host of overseas earners in the UK's leading index are supported by a weaker sterling, and the fact the currency has moved no higher has been taken positively by investors. Connor Campbell at Spreadex said:

While the pound was clearly disappointed that the CPI didn't grow any further in March, the fact that it avoided the dip forecast by analysts meant the currency's losses weren't too pronounced.

Against the euro sterling fell 0.2%, shuffling under 1.17 in the process; against the dollar, however, the pound sat flat, keeping its head just above 1.24. Though the pound didn't have an aggressively sour reaction to the inflation figure, the fact that it didn't move any higher was enough to lift the FTSE, which surged more than half a percent to hit a 3 week high.

The Eurozone indices, on the other hand, couldn't shake their negative open, the DAX and CAC slipping 0.3% and 0.1% respectively. The region was aided, however, by a pair of better than expected ZEW economic sentiment readings; the German figure came in at a 20 month high of 19.5, while the Eurozone-wide hit a 16 month peak of 26.3.

[Source:-theguardian]