7 BEST PODCAST HOSTING SITES IN 2022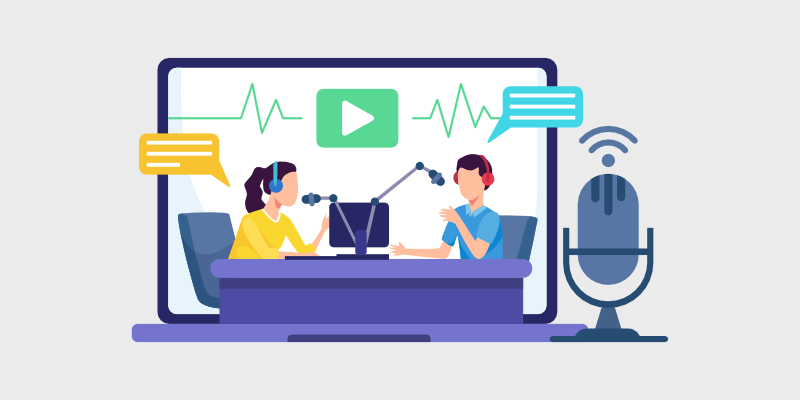 As a blogger, you're always looking for new ways to reach your target audience and provide them with value. When you first create a blog, it's easy to come up with blog content to captivate your readers.
But as time goes on, it's important to consider new avenues to promote your brand and share your knowledge. That's where podcasting comes into play.
If you're interested in starting a podcast and want to know the best podcast hosting sites available, you're in the right place.
Here are the top podcast hosting services, including free options.
But, before diving into the list, let's learn a little more about podcast hosting…
What is a Podcast Hosting Site? (And Why You Need It)
A podcast hosting site is a service that lets you store your podcast files.
If you already have your own website, you might be wondering why you need a podcast hosting service.
Well, podcast audio files are pretty big so having them on your blog will slow down your site. Your site can even crash if too many users are downloading your podcast at the same time.
With a podcast hosting site that saves your podcast files for you, you can maintain a fast and pleasant user experience on your own website.
Now that you know the benefits of using a podcast hosting site, let's take a look at the best options.
Best Podcast Hosting Platforms
There are many podcasting hosting sites to choose from. Since there are so many options, it can be difficult for new podcasters to pick the right one.
We've narrowed down the list for you and provided you with the best podcast hosting sites based on factors like ease of use, features, pricing, and support.
Let's dive into the list.
1.PodBean
PodBean is the best podcast hosting provider on the market. It offers unlimited audio and video hosting. That means that there are no limits on downloads, episodes, or recording time.
The user-friendly interface makes publishing a podcast easy. Podbean also offers scheduled publishing to make sure your podcast is published at the right time and a cover art creator to create beautiful podcast covers in just a few clicks.
PodBean comes with additional promotional features to make sure your podcast gets heard. This includes distribution to all top podcast directories, social media auto-sharing, embeddable podcast players, and more.
Plus, you can monetize your podcast by listing it in the free PodBean advertising marketplace to get matched with relevant advertisers.
You'll also get podcast statistics so that you can view downloads numbers, downloads by time of day, listener geographies, and other important insights.
Pricing: PodBean offers a free plan that comes with limited storage space. For unlimited storage space, you have to upgrade to a paid plan starting at $9 per month.
2.Buzzsprout
Buzzsprout is another popular podcast hosting site that's been in the business since 2009. It's trusted by over 100,000 podcasters and comes with everything you need to get your podcast hosted.
If you're new to podcasting, Buzzsprout makes it simple to get started. Just upload your audio file, and BuzzSprout will automatically optimize your episode.
There's even a Magic Mastering feature, which acts like an Instagram filter for your audio, automatically improving the quality based on industry best practices.
It also includes advanced podcast statistics to track your progress, embeddable podcast players you can add to your blog, and built-in transcription to make your podcast more accessible to search engines and the hearing-impaired.
In addition, Buzzsprout offers its own affiliate marketplace so you can monetize your podcast with affiliate marketing.
Pricing: There's a 90-day, free plan with limited storage. Paid plans start at $12 per month and come with unlimited storage.
The downside is that Buzzsprout limits the number of hours you can upload each month on all paid plans. If you want to upload more, you have to pay an extra fee.
3.Blubrry
Blubrry is a great full-service podcast hosting company that's helped over 100,000 podcasters since 2005.
Managing a podcast directly from your WordPress blog is super easy thanks to Blubrry's free WordPress plugin called PowerPress. It integrates seamlessly with Blubrry's hosting so that you can easily upload your episodes.
With Blubrry, you can distribute your podcast to all the top podcast directories including Apple, Google, Spotify, Stitcher, RSS, and others, to reach as many people as possible.
It also comes with a customizable podcast player that includes a subscribe button, social sharing options, show notes, cover art, play speed controls, and more.
If you're already hosting your podcast on another platform, Blubrry offers a free migration service.
Pricing: Blubrry starts at $12 per month and comes with 100MB of monthly storage.
There's also a 1-month trial so you can try it out for free.
4.Transistor
Transistor is another one of the top podcast hosting sites on the market. With Transistor, you can create and host unlimited podcasts on your account for one monthly price. This is perfect for those that want to host multiple podcasts without paying extra fees.
It comes with a stylish, embeddable podcast player that you can add to your WordPress posts and pages. And if you don't have a website, Transistor will create a basic webpage for you.
Transistor will also help you distribute your podcast to all of the popular podcast directories with 1-click.
In addition, you get detailed podcast statistics so that you can track the number of subscribers, average downloads per episode, trends, and more.
Pricing: Transistor starts at $19 per month for up to 15,000 monthly downloads.
You can try it out for free for 14 days.
5.Libsyn
Libsyn is a simple yet powerful podcast hosting platform. You can easily create, publish, and schedule your podcast episodes all from one page.
There's also a Libsyn Publisher Hub WordPress plugin that allows you to easily publish your podcast episodes right from WordPress and into your Libsyn show.
Libsyn comes with customizable podcast players, easy-to-read podcast statistic reports, distribution to your favorite podcast apps and platforms, monetization features, and more.
RSS Podcasting
RSS Podcasting is a podcast hosting service that offers unlimited audio storage. You never have to worry about running out of space or paying additional fees.
It's super easy to publish and schedule episodes. In addition, RSS Podcasting will automatically create and update your podcast RSS feed. You'll get a stylish website for your show that includes your most recent episodes, cover art, an audio player, and more.
RSS Podcast also comes with podcast analytics so that you can keep track of the growth of your show.
Pricing: RSS Podcasting starts at $4.99 per month for 500 GB per month bandwidth.
7.SoundCloud
SoundCloud is a popular music and podcast hosting site with millions of listeners. You can share your podcast episodes anywhere online, like on your WordPress blog and social media, with the embed player and audio cards.
On this platform, you can also interact with your listeners through direct messaging and in-track comments.
Its free plan lets you upload 3 hours of content and access basic insights. But, you can always upgrade your plan to unlock unlimited upload time and get advanced features like detailed audience insights and episode monetization.
Pricing: There is a limited free plan available. The Pro plan with unlimited upload time costs $12 per month.
Bonus: Fusebox
Most podcast hosting sites come with their own podcast players that you can embed on your WordPress blog. But, many of these players are pretty basic and don't offer a lot of customization options.
That's where Fusebox comes in.
Fusebox is the best podcast player on the market. With this tool, you can transform your website into the ultimate podcast experience for your fans.
With Fusebox, you can easily embed a beautiful podcast player anywhere on your WordPress site, even within an online course or membership community.
The podcast player comes with enhanced listener interface designs to boost engagement. You can choose from a track player, archive player, or a sticky floating bar player. You can add buttons for subscribing, sharing, downloading, and more. Plus, you can add call-to-action buttons to grow your email list or promote a blog post.
It integrates with many popular podcast hosting services including PodBean, Buzzsprout, and Libsyn.
Pricing: There's a free version for up to 10,000 monthly views.
The Pro version costs $15.83 per month for up to 100,000 monthly views and advanced player features.
---
And that's it for our list of the best podcast hosting sites! We hope our recommendations helped you find the perfect option for your podcasting needs.
If you enjoyed this article and are ready to start a podcast, then check out our tutorial on how to start a podcast on your blog. It'll take you through the process, step-by-step.
["source=blogtyrant"]