The city of Melbourne is the capital of the state of Victoria and is often referred to as the 'Garden City' or the cultiural capital of Australia. It has topped the list of most livable cities in the world and is also famously known as a Global University City for the number of students that go there for higher education. Situated at the mouth of the Yarra River, the city's Victorian suburbs and streets are lined up with cafes with titillating coffee aromas, muli cuisine restaurants and various art galleries. Melbourne, also known as Australia's second city, does not boast of its rival city Sydney's harbour or coastline, but has its own charm! As a tourist the only things on my mind were food, sightseeing and of course shopping. So after a good night's sleep, I spent the next day exploring the marvel that was Melbourne!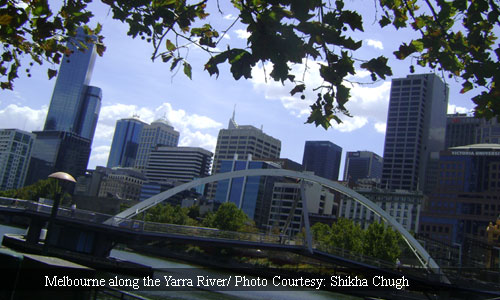 I decided to use the tram network to go around the city and the thrill and excitement I felt equalled that of a two year old! So much to do and so little time. I took a walk along the Yarra river and it was absolutely exhilarating. Even though the city's skyscrapers lined the banks of the river, it still made for a scenic walk. The people in the city were most helpful and there were so many friendly tourists that I never found myself alone. The waterfront restaurants offered the best cuisines and I was told to definitely experience one of the Yarra cruises. Unfortunately I skipped it but if you have the time, then a sightseeing cruise or a dinner cruise on the Yarra should top your itinerary in Melbourne.
After the rather scenic and calm walk I headed towards the hustle bustle of Flinders Street which is home to St. Paul's cathedral and the Flinders street station, the central station in Melbourne's suburban rail link. One look at the magnificent architecture and you are transported back into the victorian era, but then what to expect when you are in the state of Victoria. Flinders Street is one of the perfect places to be at if you are a shopaholiac.
The concept of malls is not as big in Melbourne as it is in Sydney. In Melbourne it is more specific to street or roads lined with little boutiques. Here are the top 5 places to shop at in Melbourne:
Bridge Road This road caters to women looking for an outfit to wear on a night out, or the latest fashion in warm knits and scarves, coloured jeans, etc.
Collins Street: There are lots of boutiques and little markets here but it is slightly pricier and has more designer brands, even some international stores, such as Marcs & Spencers, Forever 21, etc. that you won't find in Sydney.
Bourke & Flinders Streets: Lots of shops all along the streets which are always buzzing with people.
Chadstone: One of the few shopping malls in the city, I suggest you keep an – entire day dedicated to this place if you want to indulge yourself.
DFO (Direct Factory outlets): Very big factory outlets with big brands, big bargains and big savings. The perfect place to shop at to stay within your budget while on a holiday.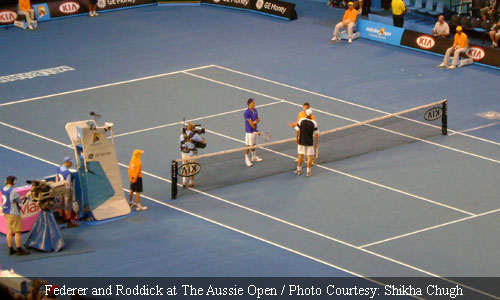 Incidentally for me, my visit to Melbourne coincided with the Australian Open and there was no way that I was going to miss a Federer – Roddick Semi-final. So after a day of burning holes in the pocket shopping, the evening saw me at The Rod Laver Arena, cheering crazily for the FEDEX and realising that the thrill of a LIVE Grand slam match is a once in a lifetime experience, especially when Federer wins in straight sets! A footbridge links the Arena to the Melbourne Cricket Ground (MCG), a world famous sports stadium and home to the Melbourne Cricket Club. Australia is a sporty nation and likewise MCG offered various comprehensive tours of the stadium. Since I was hardpressed for time I gave this a miss, but if you want to relive your favourite sporting memories, this tour is highly reccommended.
Dinner that night was a relaxing affair to end the trip on a satiating note. Melbourne is known for its lane ways, which are really narrow and have very quaint restaurants, most of which go underground. Here are some of those that shouldn't be given a miss when in Melbourne:
Hardware Lane: It's a small lane in Melbourne's Central Business District. The best part is that at night, most of the bars and cafe's offer live Jazz entertainment
Degraves Lane: This lane houses a really nice Mexican restaurant Amigos. They serve yummy nachos, enchiladas, jugs of sangria and the best sizzling sinful chocolate brownies with ice cream. A little heavy on the pocket as it is fine dining but the food and service are excellent. The lane way also has really nice Greek and Italian restaurants and coffee bars, that serve at prices to accommodate students, travellers and professionals alike, so one is never pressed for choice.
Degani Bakery & Cafe: Located in the heart of the city, Bourke Street, it is popular for big servings of hot breakfast – eggs in any and every style, bacon, toast, pancakes etc. and hot chocolates, mochas, iced coffees, etc. The best way to start your day!
Red Pepper Indian Restaurant Very nice authentic Indian food on great deals and prices. It is always full and one might have to wait for a table, but the food is delicious and the servings are quite large!
China Bar – Located in Chinatown, you can enjoy modern Chinese cuisine here and even some Indian – Chinese dishes.
Soon it was time for me to bid adieu to Melbourne and head back to Sydney. The trip was short and time flew by. But the memories were precious and I went back with a deep sense of peace and content, big words for someone as young as me, but that was the effect of this trip, nothing in the world could change that!
["source-ndtv"]