Asian Shares Post Biggest Gain In A Month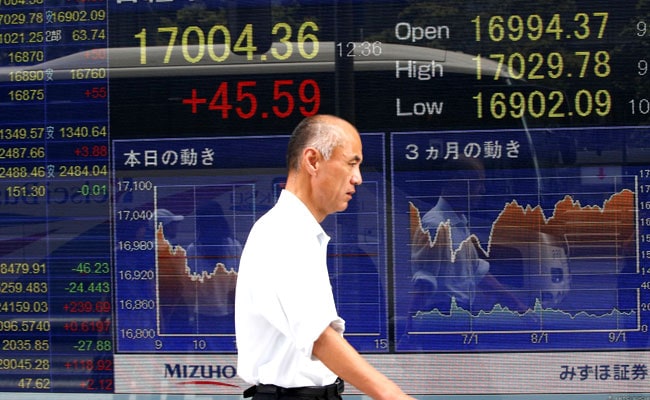 Hong Kong: Asian stocks posted their biggest daily rise in a month on Monday following modest gains in US shares, though the greenback came under renewed pressure as Washington's political turmoil undermines confidence in US economic policy. MSCI's broadest index of Asia-Pacific shares outside Japan edged up 0.9 per cent on Monday helped by gains in Australia and Hong Kong stocks despite fresh curbs unveiled by regulators on the property markets in the latter.
"This won't have much impact on the market as buyers will continue to focus on the primary market rather than the secondary market where these measures will be more acutely felt," said Alex Wong, a fund manager at Ample Capital Ltd in Hong Kong, with about $130 million under management.
The bounce in Asian stocks was the best performance since April. 25 and has notched up gains of more than 17 per cent for the MSCI emerging stocks index compared to 8 per cent for the world index even as some investors grew wary of the outlook.
"At current market valuations, we advise investors to adopt an active approach by stock picking across sectors and rotating to quality laggards," Carl Berrisford, an analyst at UBS Wealth Management wrote in note, citing valuations nearing their peak.
US stocks ended up on Friday but closed below their session highs on renewed concerns about Donald Trump's presidency, following two new media reports of possible coordination between Russia and Trump's election campaign.
Stock index futures were mildly higher in Asia.
"The escalation of the investigation into Russia's involvement in the recent US election threatens to take resources, time, and attention away from the economic agenda, which had already begun meeting some scepticism," Marc Chandler, global head of currency strategy at Brown Brothers Harriman, wrote in a note.
In foreign exchange markets, the dollar fell to its lowest levels in six months on Friday against a trade-weighted basket of its peers at 97.080 and was trading just a shade above that on Monday.
The dollar was trading at 111.40 after falling nearly 2 per cent last week while the euro inched down 0.2 per cent to $1.11880 after rising to a six-month high of $1.1212 on Friday.
Net long positioning on the euro rose to its highest in more than three years in the week ended May 16, according to calculations by Reuters and Commodity Futures Trading Commission data issued on Friday.
Recent economic improvement in the euro zone has raised market expectations the European Central Bank will tone down its dovish language at its next Governing Council meeting next month.
Signs from the government bond markets did not bode well for the greenback either. US bond yields have gently drifted lower in recent days cutting the yield premium US Treasuries earn against other bond markets such as German or Japanese debt.
Oil clung on to Friday's gains trading around $50.80 per barrel.
["source-ndtv"]