Facebook Brings 'Chatbots' to Messenger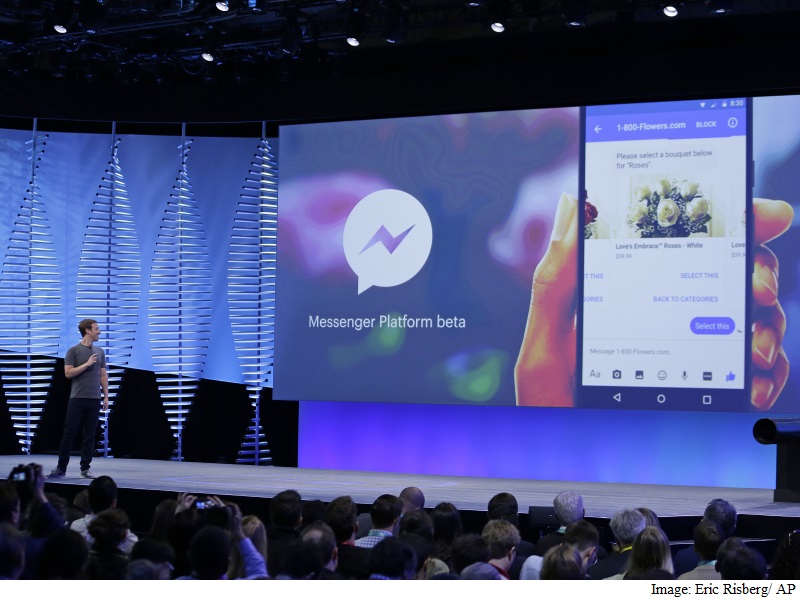 Facebook on Tuesday extended its reach beyond online socializing by building artificial intelligencepowered "bots" into its Messenger application to allow businesses to have software engage in lifelike text exchanges.
The move announced at the leading online social network's annual developers conference in San Francisco came as the number of monthly users of Messenger topped 900 million and the Silicon Valley company works to stay in tune with mobile Internet lifestyles.
"We think you should be able to text message a business like you would a friend, and get a quick response," Facebook co-founder and chief Mark Zuckerberg said as he announced that developers can build bots that could even be better than real people at natural language text conversations.
Bots are software infused with the ability to "learn" from conversations, getting better at figuring out what people are telling them and how best to respond.
The bots could help Facebook over time monetize its messaging applications and get a start on what some see as a new way of interacting with the digital world, potentially shortcutting mobile applications and sidestepping search.
(Also see:  Facebook Bots Are a Tough Sell After Microsoft Tay's Racist Tirade)
"Our goal with artificial intelligence is to build systems that are better than people at perception seeing, hearing, language and so on," Zuckerberg said while laying out a long-term vision for Facebook.
A look at the number and types of services that titans such as Facebook, Google and Apple have rolled out in the last couple of years, it appears the companies are "trying to dominate the customers' mobile moments," Forrester analyst Julie Ask told AFP.
Getting smarter
Artificial intelligence is already used in Messenger to recognize faces in pictures, suggesting recipients for messages and for filtering out spam texts.
"Soon, we are going to be able to do even more," Zuckerberg said.
He promised a future in which Facebook AI would be able to understand what is in pictures, video or news articles and use insights to recommend content members of the social network might like.
Bot-building capabilities will be in a test mode with Facebook approving creations before they are released, according to vice president of messaging products David Marcus.
Some of the latest tools include one for the creation of "high-end, self-learning bots," along with ways for them to be brought to people's attention at Messenger, Marcus said.
"If you want to build more complex bots, you can now use our bot engine," Marcus told a packed audience of developers.
"You feed it samples of conversation, and it's better over time. You can build your bot today."
The list of partners launching Messenger bots included Business Insider, which said it will use the technology to deliver news stories to people in real-time.
"We are excited about this new offering because we know that messaging apps are exploding in popularity," Business Insider said in a story at its website announcing the move.
Cloud computing star Salesforce planned to use the platform to help businesses have "deeper, more personalized and one-to-one customer journeys within the chat experience," said Salesforce president and chief product officer Alex Dayon.
Bridges, not walls
Zuckerberg laid out a future for Facebook that, aside from Messenger, included ramping up live video streaming and diving into virtual reality.
"We think we are at the edge of the golden age of video," Zuckerberg said.
Facebook opened its Live platform to allow developers to stream video content from their applications to audiences at the social network.
Zuckerberg demonstrated with a drone that flew over those seated, streaming live video to Facebook while he spoke.
Messenger and Live will be built out further in coming years, along with virtual reality technology atFacebook-owned Oculus, according to Zuckerberg.
When his daughter takes her first steps, Zuckerberg said he planned to record it in 360-degree video so family and friends can experience it in virtual reality as if they were there for the moment.
At one point, Zuckerberg's comments took on a political tone, with the Facebook chief maintaining that the mission to connect the world is more important than ever given rhetoric about building walls and fearing those who are different.
"If the world starts to turn inward, then our community will have to work even harder to bring people together," Zuckerberg said.
"Instead of building walls, we can build bridges," he added, in an apparent reference to the fiery rhetoric of Donald Trump.
["source-ndtv"]