LG G5 Teardown Gives the Modular Smartphone a High Repairability Score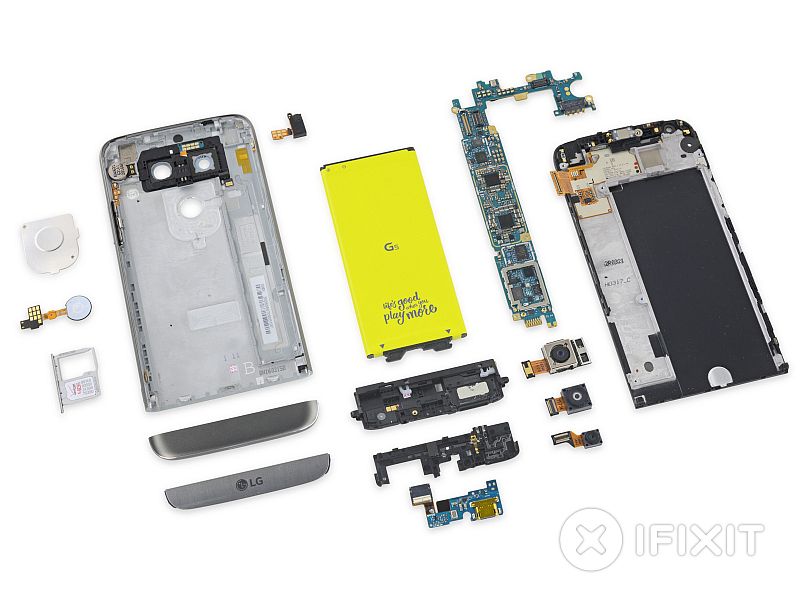 LG's latest flagship G5 smartphone has received its first proper teardown where it scores well due to its easily repairability. Teardown experts at iFixit cracked open the LG G5 to reveal its innards as well as see how easy was it to repair the handset.
Unlike the Samsung Galaxy S7, the LG G5 scored a repairability score of 8 out of 10. To recall, Samsung's flagship poor repairability score of 3 out of 10. The teardown suggested that many components in the LG G5 were modular "making for easier, cheaper part replacement".
iFixit noted that the replaceable battery on the G5 minimises the amount of e-waste associated with consumer electronics.
"Replaceable batteries make us happy. They play a huge role in minimizing the amount of e-waste associated with consumer electronics. Not to mention, they add the ability to carry an extra battery, so you don't run out of juice," said the iFixit team. The teardown adds that while the G5 doesn't supportAndroid's adoptable storage, LG's external storage inclusion in its flagship is "another win for longevity and, in all likelihood, a net reduction in e-waste."
Most of the module covers were glued on which meant that making repairs was a bit sticky. "After just two screws and some pry-able clips, we pop open the display with ease. No fuss, no adhesive," added iFixit.
The teardown suggested that the fingerprint scanner on the LG G5 was a bit different from the one seen on the LG-made recent Nexus 5X. Some of the chipsets revealed by the teardown include Samsung K3RG2G20BM-MGCJ 4 GB LPDDR4 RAM, Samsung KLUBG4G1CE-B0B1 32 GB MLC Universal Flash Storage 2.0, NXP 54802 NFC Controller, Qualcomm SMB1350 Quick Charge 3.0 IC, and Qualcomm WSA8815 Audio Codec.
The only complaint folks at iFixit had with the G5 was the fused display assembly would need to be replaced if the LCD or glass break, resulting in increased costs.
["source-ndtv"]