From Railway Mutton curry to Bedmi-aloo: When railway food was an affair to remember
What is your earliest memory of (good) train food? Mine is the hot thali that would be served to First Class passengers from the pantry, which you could visit to get warm milk, water or boil egg any time of the journey and often be rewarded with something scrumptious that the cooks (who were khandani bawarchi by the way) may have invented for the next meal. It could be a simple dal or a chicken curry. What made this slightly watered down version addictive were two things: One, the way it was served: in china white crockery with a smile. And two, the subtle flavour. The meal was made to suit your young palate. And that etched it into your mind like first love.
Over the years of course the memory has had a lard layer of rather disappointing, insipid food that did nothing to raise your stomach's libido. But now with the pantry car soon becoming history, it is only befitting to recall the single 'investment by the British' that made journey the 'food-centric'.
So where do we begin this journey? 1857, the time when the drama began. Seasoned engineer Robert Maitland Brereton was given the charge of expanding the rail roads in India. He had to create the longest most complex network of railways to connect the richest colony from end to end.
Dining Car on Imperial Mall (Source: Railway Archive pictures)
But little did Brereton, or the Empire, realise then that what his 6,400 km network would by the turn of century prove to be a milestone in not only shaping the Indian hospitality, but also the trail that created food memories of millions of Indians and their generations.
The story began with the Allahabad-Jabalpur branch line of the East Indian Railway that opened in June 1867. This was the first of Brereton's 6,400 km rail network. Officially opened on 7 March 1870, it became the inspiration for French writer Jules Verne's book Around the World in Eighty Days. At the opening ceremony, the Viceroy Lord Mayo concluded that "it was thought desirable that, if possible, at the earliest possible moment, the whole country should be covered with a network of lines in a uniform system".
It was the first train to have a full fledged restaurant car replete with trained butlers, chefs, cleaners and an a la carte menu to match the grandeur of a well-stocked bar! Dining cars on Mail and Express trains appeared as early as 1903, the same year in which 8-wheeled carriages running on bogies were introduced. Prior to this, all important trains were allowed sufficient halts at appointed stations, for breakfast, lunch or dinner to be had at one of the several refreshment rooms available at the platform: Refreshment Room, European; Refreshment Room, Muslim; Refreshment Room, Hindu – Vegetarian, and Refreshment Room, Hindu – Non Vegetarian.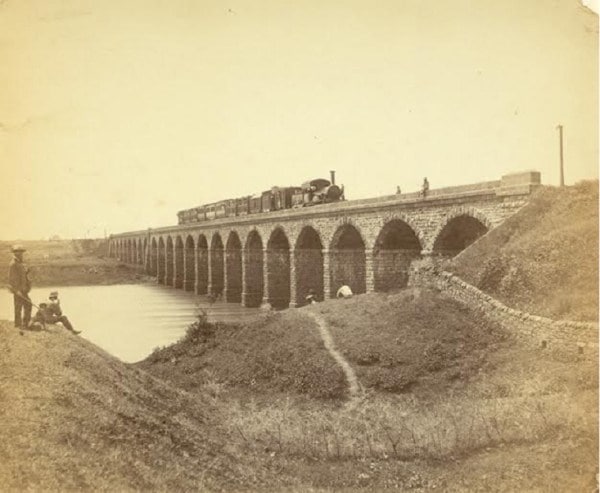 And of course the canteen for the 'cattle class' traveling in Third Class. You could have a decent meal with meal tickets in these places. The first menu was said to be a copy of that of a 'Military Mess'. The breakfast had items like muffins, waffles, pie and choice of eggs with of course the classic English tea. Lunch had casserole and dinner had Almond Soup, which was retained in Palace of Wheels' menu for a long time.
But it wasn't till the Frontier Mail (renamed Golden Temple Mail post independence) that restaurant car upped its ante. Run by the Western Railway, the train was considered Rolls Royce of its time – both for its luxury (it had bedrolls, a shower, a salon and even a steam room) and the inimitable dishes it served. It was the first time that Roast Chicken was introduced to the Indian palate, soon followed by Madras spicy mutton curry and rice, the chicken cutlet (which came close to the kebabs) and the now famous Railway Mutton Curry. The iteration of which made it in to the richer food corridors of hotels like The Oberoi and Made in Punjab among others. Story goes that a drunken British officer stumbled into the kitchen looking for midnight snack. The service was over and the cooks were making food for them.
One dish was the Calcutta Mangsho Jhol. Made of farm bred chicken,  Dak Bangla style, it was known for its fiery taste. Understandably, the British didn't appreciate a burnt stomach, but was overjoyed when in an instant the dish was changed from a spicy curry to a subtle one with yogurt. Such was the impression that the officer ordered it every time he was on the train, and fondly called it the Railway Mutton Curry. And thus was born Railway Mutton Curry.
But that was not the only dish that Railway popularized. There was also the Egg Biryani that became iconic. Of course the Alam Shah khansama's invention did undergo the railway 'touch', which by then was 'subtle-izing" Indian flavours to suit the British palate. Of course the rail chefs, who were khansamas of lesser clout, did their magic by creating some addictive dishes like the railway tomato soup (a more mashed up version still exists in Rajdhani), the Bihari Kebab, the Sitaphal Ice Cream with Kalakhatta Gola. Bedmi-aloo comprises puffy deep fried puri like bread served with spicy potato curry. Bedmi aloo finally took shape of the poori aloo that is omnipresent in every station with the introduction of nagori puri, the dough which is set to rise for an hour, before being fried and served with the iconic tamarind-banana chutney.
Railway Mutton Curry
INGREDIENTS
800g/1 lb 13 oz    Shoulder of Kid/Spring Lamb (11/2″ boned cubes)
16 Baby Potatoes (peel)
01 no  Potato
90g/3 oz Desi Ghee/Clarified Butter
150g/5 oz Onions (chop)
24 Curry Leaf
30g/5 tsp Garlic Paste (strain)
20g/31/2 tsp Ginger Paste (strain)
30g/5 tsp Red Chilli Paste
27g/3 Tbs Dhania/Coriander Powder (freshly roasted & ground)
6g/2 tsp Zeera/Cumin Powder (freshly roasted & ground)
3g/1 tsp Haldee/Turmeric Powder
960 ml/4 cups Clear Kid/Lamb Stock
Salt
45g/11/2 oz Imlee/Tamarind Pulp
180ml/3/4 cups    Coconut Milk (I extract) or Cream (canned)
Cooking oil for frying potato jali
Serves: 4
Preparation Time: 45 minutes (plus time taken to make stock)
Cooking Time: 1:30 hours
PREPARATION
THE TAMARIND: Put tamarind in a saucepan, add 240ml/1 cup of water, bring to a boil, reduce to low heat and simmer until reduced to a quarter (60ml/1/4 cup).
THE POTATO JALI:  Peel, wash and make a laccha with help of turning slicer and and shallow fry over medium heat until Crisps. Remove to absorbent paper to drain the excess fat.
COOKING
Heat ghee in a handi/pan, add onions and curry leaf, saute over low heat until onions become limp and soft, add garlic paste, ginger paste, red chilli paste, coriander, cumin and turmeric (dissolved in 120ml/1/2 cup of water), stir-fry until the moisture evaporates. Then add the meat, increase to high heat (to sear) and stir-fry for 7-8 (adding small quantities of water to prevent sticking), add potatoes, stir-fry for a minute (adding a little water to prevent sticking). Now add stock and salt, bring to a boil, reduce to low heat, cover and simmer, stirring occasionally, until the meat is cooked. Uncover, add tamarind, bring to a boil, reduce to low heat simmer, stirring occasionally, for 2-3 minutes. Remove handi/pan from heat, stir-in coconut milk/cream, bring to just under a boil, ensuring that it does not come to a bubble (or the coconut milk will curdle), reduce to low heat and simmer until the gravy is medium thick. Remove and adjust the seasoning.
TO SERVE
Remove and serve in a deep bowl / plate, make roundel of potato jail and place coriander sprigs on top and serve with steamed rice.
["source-indianexpress"]