Need a sugary boost? Gorge on this yummy Pear Crumble with ice-cream
This is one dessert which calls for a quiet moment with yourself. On one of those days when you are tired and need that sugary buttery boost – go for a pear crumble with a generous helping of ice cream. The contrast of hot crunchy crumble with cold velvety ice cream will make you go mmmmm. You're worth every bite of it!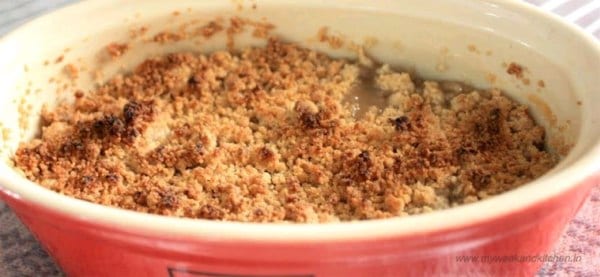 Pear Crumble
Pear Crumble
Preparation Time: 10 mins| Baking time: 40 mins| Serves 3
Ingredients
2 pears, firm
¼ cup castor sugar
For the crumble:
1 cup all-purpose flour
½ cup castor sugar
½ tsp cinnamon powder
~75 gms of butter, melted
Method
Preheat oven to 200C
Peel, core and dice the pears into small cubes. Put in a bowl. Sprinkle ¼ cup sugar.
Mix well and keep aside.
In another bowl, combine together flour, sugar and cinnamon. Add in melted butter slowly and mix with your hands until the mixture resembles soft bread crumbs.
Butter a small oven proof dish. Pour the pear cubes into the bottom of the dish. Top with crumb topping.
Bake at 200C for 40 minutes until the crumble topping is browned and the fruit mix is bubbling from the sides!
["source-indianexpress"]