Reliance on Food Pantries Can Make Healthy Eating Difficult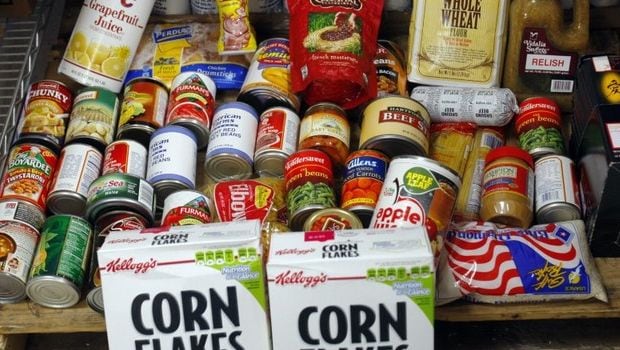 One month's food assistance for one to two people is displayed at the Blackstone Valley CAP food pantry in Pawtucket, Rhode Island December 2, 2008. Reuters/Brian Snyder
People who rely on food pantries for their meals may not receive enough dairy, fruits or vegetables to get all the nutrients they need for a healthy diet, two recent studies suggest.
Part of the problem is that many volunteer-supported food pantries set up to provide occasional assistance to families during temporary setbacks have instead become the main source of food for long periods of time, noted a lead author on the studies, Anja Simmet.
"Besides the dependence on donations, another problem with fresh produce donations is the transport and storage," Simmet, a researcher at the University of Hohenheim in Stuttgart, Germany, said by email.
"Transportation is more difficult because fresh fruit and vegetables need more space and are often more difficult to stack and they need to be cooled to prevent spoilage," Simmet added. "In general, they can't be stored for long-time."
Traditional food pantries supply people with bags of non-prepared food items, usually donated by retailers, manufacturers, industries, producers, religious groups and community organizations.
A growing number of people in high-income countries like the U.S., Canada, Australia and throughout Europe rely on food pantries for some or all of their meals, researchers note.
To assess how well people might eat using food pantry items, both studies by Simmet and colleagues analyzed data from research previously conducted in high-income countries and published between 1980 and 2015.
Both studies appeared in the Journal of the Academy of Nutrition and Dietetics.
One study focused on what's known as nutritional quality, or how much of individual nutrients were in bags of food handed out. The other study looked at dietary quality, or whether the bags included recommended amounts of various food groups
Either way, the handouts don't appear to provide optimal nutrition.
The nutritional quality study looked at nine previously published papers that assessed the proportion of food bags distributed that provided recommended amounts of nutrients and servings from different food groups.
A substantial percentage of food bags didn't meet minimum recommended amounts of dairy products or items containing vitamin A, vitamin C, zinc and calcium, the study found. One limitation of this analysis is that most research was done in the U.S. and Canada, and the results may not reflect food pantries elsewhere, the authors note.
For the second study, researchers looked at 15 previously published papers on dietary quality and found food pantries typically distributed enough meat but not enough dairy, fruits or vegetables. A limitation of this study is that much of the data relied on people to accurately recall and report what types of foods were provided to food pantry users, the authors note.
Even so, the findings highlight how hard it can be for people who routinely rely on food pantries to eat a healthy diet, said Tamara Dubowitz, a researcher at RAND Corporation in Pittsburgh who wasn't involved in the study.
"Many food pantry users are struggling with unemployment, low wages, and/or are in an extremely vulnerable place," Dubowitz said by email.
Without a healthy diet, people already struggling financially may be more vulnerable to health problems like diabetes, high blood pressure and obesity, previous research has shown
"If food pantries were able to emphasize healthy options and/or simple and healthy meals that might be prepared from food pantry options, users might be better positioned to take small steps and make small choices that could contribute toward healthier eating," Dubowitz said.
["source-ndtv"]