'We Want Our Tricolour Back,' Students To Central Team At NIT Srinagar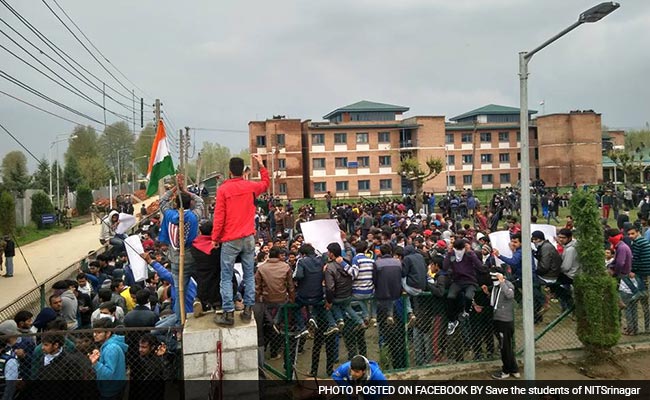 SRINAGAR:

In a packed hall at the National Institute of Technology in Srinagar, a student representative today told visiting officials from the Centre's education ministry that they want the institute shifted out of Srinagar and want action taken against policemen who lathicharged student protesters late on Tuesday evening.
"And we want our national flag back from the police," he said amid loud cheers from fellow students, video footage of the meeting shows.
On Tuesday, students of the institute who are from outside Kashmir, clashed with the policeat the institute's gate when they were prevented from leaving the campus. The police used batons and several students were injured. The police have alleged that the students attacked cops with stones.
The students allege the police attacked them during a silent march and that they confiscated the national flag from them.
Today, they demanded that the police withdraw the allegation that students threw stones at them, which they say is false. They have also objected to the police action being called "a mild lathicharge" by Nirmal Singh, the Deputy Chief Minister of Jammu and Kashmir, alleging that several injured students have undergone surgery.
Mr Singh today told NDTV he had been misinformed of the facts. "Police officers who were involved in lathicharge will be punished. I was told it was a 'mild' lathicharge which is why I used that term earlier," he said.
Mr Singh also promised that the flag will be returned to the students. "Every student has the right to hoist the national flag, raise the slogans of Bharat Mata ki Jai, but the question is whether such situation should be allowed to occur when there is a clash between the students…," said Mr Singh. Kashmir has its own flag, which is used with the tricolour on government buildings and other public places.
The students have demanded that exams scheduled from Monday be postponed to allow them to go home. "Let us first go home and then we'll go to any other place you send us," said the student leader to officials today.
Education minister Smriti Irani has assured students that examinations will be conducted in a "secure environment" at the institute and that she will ensure no injustice is done to them.
"Some students want to go home, we have made the required arrangements," the minister said.
The NIT campus has been tense since last week, when local students and those from other parts of the country clashed after the former burst crackers when India lost to the West Indies in the World T20 semi-final.
["source-ndtv"]