NIT Srinagar Unrest: Will Ensure No Student Deals With Injustice, Says Smriti Irani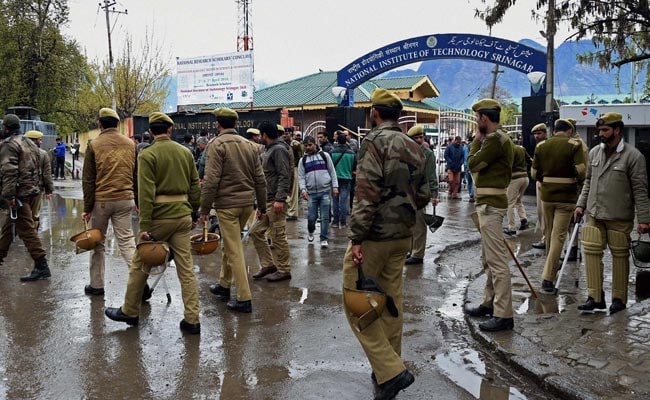 SRINAGAR:  Union Education Minister Smriti Irani has assured students that examinations will be conducted in a "secure environment" at the National Institute of Technology in Srinagar, where student protesters were lathicharged by the police during clashes on Tuesday evening.
Here are the 10 latest developments in this story
Ms Irani said she has spoken to Jammu and Kashmir chief minister Mehbooba Mufti, who has assured her that students will be safe at the institute and that no student will deal with injustice.
Ms Irani, who sent top officials to the Srinagar institute today, said they had spoken to about 400 students on campus and also to some of their parents. The officials, she said, would remain on campus till examinations end.
Ms Irani said examinations will be held from Monday, April 11. "Students haven't complained about the marking system. Some students want to go home, we have made the required arrangements," the minister said.
Students from outside the state have told the central officials that they want the institute shifted out of Srinagar as they do not feel safe after the police used batons on protesters yesterday, injuring several of them. They allege some students needed surgery.
They have also demanded that a national flag allegedly taken away by the police be returned to them and action be taken against the policemen involved in the lathi-charge.
"Police officers who were involved in lathi charge will be punished. I was told it was a 'mild' lathi charge which is why I used that term earlier," said the state's Deputy chief minister Nirmal Singh, who has been criticised for that description.
Mr Singh also said, "Every student has the right to hoist the national flag, raise the slogans of Bharat Mata ki Jai, but the question is whether such situation should be allowed to occur when there is a clash between the students…because you know that all these sensitivities are there due to unfortunate campaigning by our opposition parties especially the separatists,". The state has its own flag, which is used with the tricolour on government buildings and other public places.
The campus has been tense since last week, when local students and those from outside Kashmir fought after the former celebrated India's defeat in the World T20semi-final against the West Indies.
Since late last night, the paramilitary Central Reserve Police Force has been stationed on the campus. With heavy police presence too, the science and engineering institute is a fortress.
Andhra Pradesh chief minister Chandrababu Naidu has written to the Centre asking it to ensure the security of the nearly students from his state who study at the Srinagar NIT. About 70 per cent of the institute's students are fro outside the state.
["source-ndtv"]