Xiaomi's in-display camera technology explained: A clever transparent glass makes notches history
ust a few days ago, Xiaomi came up with a solution that every smartphone manufacturer has been wanting for years – achieve a true fullscreen bezel-less display. No, Xiaomi hasn't come up with another weird motorised camera solution to make this happen. This time, it's the rear deal – the camera is truly under the display like other sensors and the phone achieves an uninterrupted display without a motorised camera.
In a short teaser video, Xiaomi showed the concept in reality by comparing a concept device with the in-display camera technology with the conventionally notched Xiaomi Mi 9. The video shows that the camera outline is still visible at an angle when the display is switched off but it hides the camera completely when the screen lights up. This arrangement offers a fullscreen no-notch display experience without any motorised solutions.
Since this video came up, many have been wondering how the technology works and whether the concept shown in the video is feasible or not. Xiaomi, as always, has an answer explaining the in-display camera technology. Xiaomi Senior VP Wang Xiang in a recent Twitter post shared some slides that explain the in-display camera technology.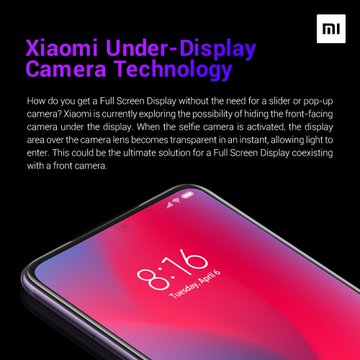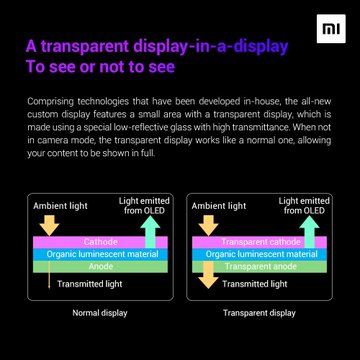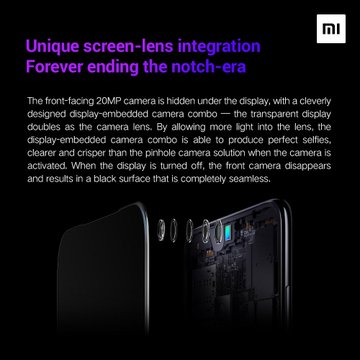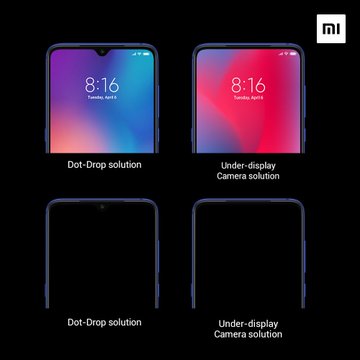 Although Xiaomi hasn't gone into details much, the basic technology has been explained very clearly. Basically, Xiaomi is using a custom developed display that has a small transparent panel at the top, just above the camera sensor. The transparent area is made using a low-reflective glass with high transmittance. In normal circumstances, the area shows the content on the display like a normal display and the camera is concealed.
When the front camera is needed, the display above the camera becomes transparent, allowing light to pass through the glass and on to the camera sensor. Xiaomi says that since the camera sits under the display, it can use larger camera sensors to get better photo quality from the front camera. So far, the front camera sensor size has been restrained due to the size of the notch, which in most cases has been tiny. When the display is turned off, it completely conceals the camera sensor, no matter how large the sensor may be.
As of now, the technology only exists in concept devices and Xiaomi says it would be a while before we see an actual smartphone carrying this camera technology. Oppo has also demonstrated the same technology on a prototype device. Going by their track records for several technologies, both Xiaomi and Oppo could deliver a commercial smartphone with this technology within this year. And if that happens, we can happily bid a big goodbye to ugly display notches that have invaded smartphones since 2017.
["source=indiatoday"]