Apple Co-Founder Steve Wozniak on Cook, FBI, Tesla, and His Life
Steve Wozniak, known to the world at large for being the co-founder of Apple, took to user-curated social news website Reddit on Wednesday night to answer any questions people had for him, in what is described in Internet speak as an AMA (Ask Me Anything).
Among dozens of responses, Wozniak spoke highly of Apple's current CEO Tim Cook, pointing out how the company was continuing to make hardware and software that made a difference in people's lives. And in what can be construed as something Steve Jobs wasn't every forthcoming with, he also said that Cook is "acknowledging the employees of Apple… as real people".
(Also see: Steve Jobs Wasn't Pushed Out of Apple, Says Wozniak)
He also weighed in on FBI's war with Apple on the on-going issue of the iPhone that belonged to the San Bernardino shooter. Wozniak talked about the Soviet Union under Stalin and how the nation was perceived as "everybody is spied on, everybody is looked into, every little thing can get you secretly thrown into prison". He said he believes in the US Bill of Rights, which grants freedom of speech alongside other rights. Concluding on the topic, he said he believes "if some code gets written in an Apple product that lets people in, bad people are going to find their way to it, very likely".
Asked what was in the list of his favourite upcoming gadgets, Wozniak mentioned Oculus Rift, Amazon Echo and machine learning in an advanced manner. On the topic of Artificial Intelligence (AI), he said he's really looking forward to the progress of digital assistants into something that "can eventually communicate with [us] as our best, most trusted friends that know our own hearts and souls better than other humans". He mentioned he enjoys watching basketball games in VR, can use the Echo without even getting out from under the bed sheets and absolutely loves his Tesla car. "I [kind of] look over at my wife, and I just smile," when he drives, he added.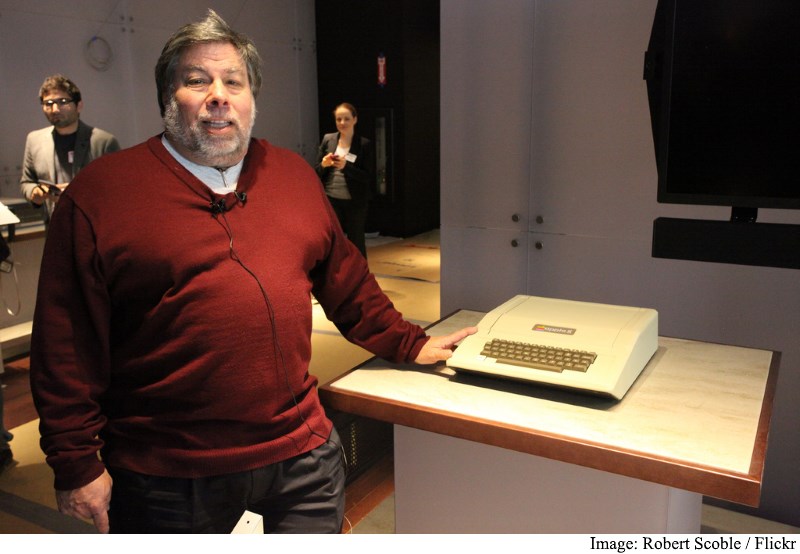 Steve Wozniak with the Apple II
In his nine-year stint at Apple, Wozniak twice left the company, the second time for good and sold most of his shares because he thought the company was headed in the wrong direction. When asked by a Redditor why he did so, he said: "I didn't want to seek wealth and power, because in my mind it often corrupts people, and I didn't want to be that person who runs a company." His first exit was due to a plane crash which brought out temporary amnesia, but then decided to stay away to finish his college degree and seeing how the Macintosh team was doing fine without him. Wozniak maintains he left the second time because he loved start-ups, and would rather see a group of 3-5 people "talking about an idea and going out and making it a reality".
Wozniak is also known for his humour in the industry and didn't shy away from taking a few pot shots. Chief among those was a joke on people engrossed on their phones while walking down the sidewalk. Talking about how technology is almost now everywhere, he said he doesn't answer every text message instantly but waits until he is by himself and can be more productive. At the same time, he doesn't blame millennials who are obsessed with their devices and added: "When we started Apple, Steve Jobs and I talked about how we wanted to make blind people as equal and capable as sighted people, and you'd have to say we succeeded when you look at all the people walking down the sidewalk looking down at something in their hands and totally oblivious to everything around them."
Wozniak also spoke about how high he holds in his regard the people who can tinker with equipment. He thinks "it's much less important [for companies] to get somebody who has PhDs in all these subjects" but knows how to operate and build things in their small garage/ laboratory.
As for people looking to start a business, his advice was to be humble, build stuff you like, not worry about if it has business potential, and never to think about the money, among other things. He said it was important to imbibe the value of a quote uttered by the founder of Def Jam Recordings and Rush Communications Russell Simmons: "Operate from a place of needing nothing. Needing nothing attracts everything."
The 65-year-old also openly answered personal questions, saying how he regrets the three divorces he's had, putting it down to his "geekish personality that isn't really very social", he said.
When asked what he does in the occasional free time he gets, Wozniak said his wife and him "go to 50 concerts a year", mostly small ones. Apart from that, since the two share common interests in books as well, they listen to audiobooks together while taking road trips whenever possible.
["source-ndtv"]