Arla unveils Lockerbie plant investment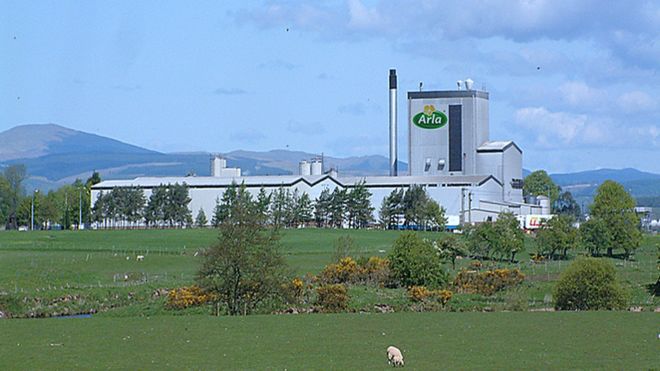 Dairy giant Arla is to invest £5.5m to upgrade processing facilities at its Scottish plant in Lockerbie.
It is part of a UK-wide package of £72m to be spent this year, which the company said showed its "clear commitment" to dairy production.
In total 10 of its 12 sites will receive investment in 2018.
Arla said the latest developments would take the total spent at Lockerbie to more than £44m in recent years which showed its "strategic importance".
The full investment package will see more than £33m spent on its Aylesbury plant in order to become the UK home to its lactose-free dairy production.
Lockerbie will receive more than £5m while the remaining £32.5m will be shared between sites in Melton Mowbray, Llandyrnog, Malpas, Oakthorpe, Stourton, Settle, Oswestry and Trevarrian.
'Original superfood'
The company said other "non-site specific investments" would enable Arla to continue to "drive growth for the farmers which own it" and "capitalise on increasing demand for dairy".
Managing director Tomas Pietrangeli said: "Arla is the biggest dairy company in the UK, owned by 11,200 farmers across Europe.
"This investment is almost double the investment of last year and, with the exception of building the Aylesbury dairy, it is the biggest annual investment for Arla in the UK.
"While milk prices remain volatile and Brexit brings both uncertainty and opportunity, Arla farmers in the UK and across Europe are committed to continually investing in our UK business to maintain pace with the demand for nature's original superfood, and the consumer choice it creates."
["Source-ndtv"]