Friends Union Joshi Club: Home-Style Gujarati Thali at its Best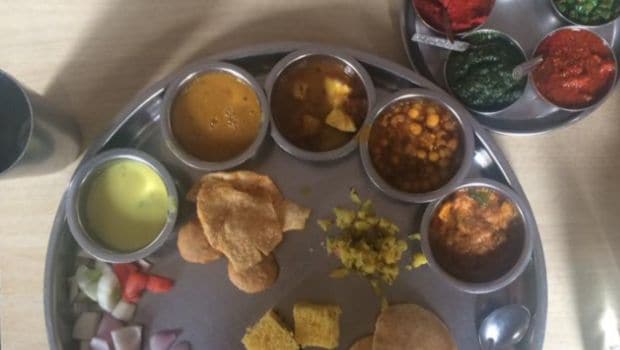 It's not easy trying to find Friends Union Joshi Club – it's tucked away on the first floor of a nondescript building in Narottam Wadi, situated in one of Kalbadevi's busy warren of streets. If you're coming to it from Crawford Market, it will fall to your right. My suggestion would be to turn on Google Maps; first-timers will need it. Nobody goes to Friends Union Joshi Club for its salubrious decor. There's no fawning wait staff, or air conditioning. You won't find fussy foods, frills and fripperies. What you will find though, is a simple, home-style Gujarati thali, with dal, vegetables, roti and bhakri, served in one of Mumbai's oldest restaurants, in the midst of bustling Kalbadevi. And you will find all this for less than Rs 250 per thali.
Friends Union Joshi Club has been around for about a century, beginning life as a bhojnalaya (khaanaval), a sort of canteen that serves food to homesick migrants from Gujarat. Legend has it that the restaurant was founded by freedom fighter, Govindram Joshi, who used it as a club of sorts for his patriotic friends. Its (admittedly odd) name is probably a literal translation of Joshi Mitra Mandal.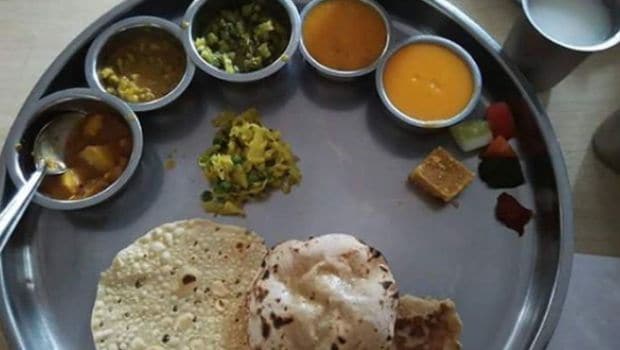 But much has changed since then. The original building that housed the restaurant, a rickety wooden structure, was demolished in 1988, and rebuilt into the current, frill-free concrete structure, in 1990. The prices have risen exponentially, and so has the variety of dishes on the plate. Kalbadevi, although as busy and bustling as ever, is no longer the commercial heart of the city. The profile of the diners has changed too — the Club now mostly caters to small-time businessmen who congregate here at lunch time. It is said that even the late, great Dhirubhai Ambani used to visit the bhojnalaya, whenever his wife was not with him.
The food at Friends Union Joshi Club is pure ghar ka khaana. The cooks don't cloak the food in oil and spices, and it isn't overly sweet, as some Gujarati restaurants tend to make it. These are flavours that are not very easy to find in commercial eateries. Usually, most thali restaurants douse their food with sugar, making the whole meal (more or less) a succession of sweet dishes. This goes against the grain of most home-cooked Gujarati meals. There may be sugar, sure, but it is all delicately balanced with sour, savoury flavours, and a plethora of textures (look at the irresistible Mumbai bhelpuri, for instance, with its sour, sweet, spicy, crunchy, soft taste).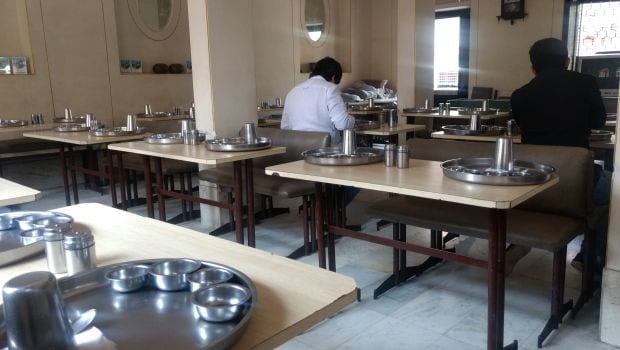 The array of dishes offered, shifts every day. Two or three dals are a constant — one, a slightly sweeter Gujarati-style toor dal, and one a spicier, masala-laced one. Four vegetables dishes are served: one is always a potato dish, and one is always a sprout preparation. The other two dishes vary. They could be anything from bhindi to tendli to cauliflower to spinach (we got palak paneer and bitter gourd, the last time we visited!).
Alongside this delectable spread are the accompanying acts; hot, fresh rotis, slightly burnished by the tawa and freshly doused in molten ghee, and fluffy rice that is ladled generously onto your thali. Sometimes, you may find that you are served small, biscuity bhakris, and sometimes you may be served polis, stuffed with their signature sweet chana dal mixture.
A cut salad of tomatoes and cucumber (a sort of kachumber, if you will) garnishes the plate, while there is always, always farsan. The type of farsan may vary of course, if sometimes a crisp kachori, then other times, a dhokla, served with the accompanying sweet or spicychutneys. If you are lucky, you may even get dahi wada. After all, farsan is an integral part of the Gujarati thali, as it adds a variety of textures to the whole meal.
A cool steel glass of chaas, or a cooling katori of dahi are also par for the course. A plate of rainbow-hued chutneys and pickles is also plunked down on each table – I am particularly partial to the spicy garlic one.
And then of course, there is always a sweet, which changes every day. The Gulab Jamun, the rosogullaand the basundi are crowd favourites that are generally available all the year round. Not all the sweets are priced the same though; you are charged separately, depending on the meetha that you choose. If you go in the steamy summer months, you will also be offered a bowl of everyone's beloved aamras. Let me be the one to tell you that it is absolutely worth the extra cost!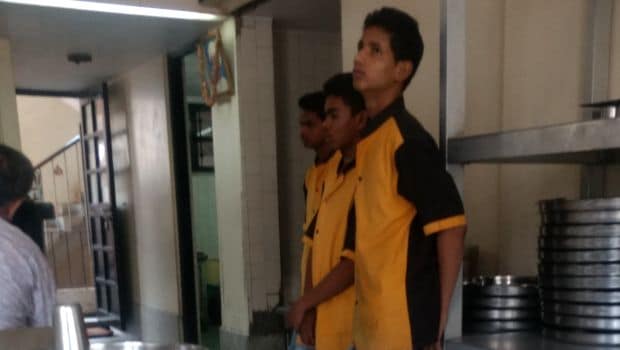 Certainly, Mumbai has no dearth of Gujarati thali restaurants. Golden Star, Thacker's and Samrat, are just a few names that come to mind. Most of these offer air-conditioned comfort and an upmarket experience, with heavy, opulent dishes, that are delicious for an occasional (celebratory?) meal. But for a simple, delicious, home-style Gujarati thali, served for a fraction of the price of the others, Friends Union Joshi Club is your best bet.
Where: Friends Union Joshi Club, 381-A, 1st floor, Narottam Wadi, Kalbadevi
Timings: 11 AM to 3 PM, 7 PM to 10 PM
Meal for two: INR 600
["source-ndtv"]