Kids Who Eat Two Breakfasts Are Less Likely to be Overweight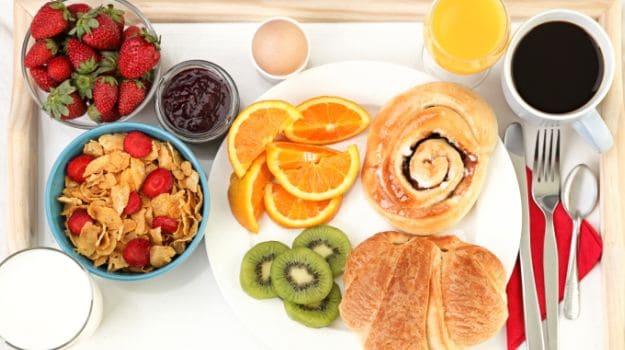 A growing number of children are eating free breakfasts at school, but the push to provide morning meals for all children in low-income communities has long been accompanied by a concern that it might mean more kids end up eating a double breakfast, one at home and one at school, increasing their risk of obesity.
A new study suggests that it is not children who indulge twice, but those who skip breakfast altogether, who are more likely to be overweight. In other words, two breakfasts appear to be better than none, said Marlene Schwartz, of the University of Connecticut's Rudd Center for Food Policy and Obesity.
"Our study does add to the argument that it's really important to make sure that as many kids as possible are getting a healthy breakfast," said Schwartz, one of a team of researchers who conducted the study, which appears in the journal Pediatric Obesity. "Especially in low-income communities, having universal access to healthy breakfasts is helpful."
Advocates (including the current residents of the White House) see free meals at school — including lunch, and more recently breakfast and supper — as a critical way to fight hunger among American children who live in poverty. Nearly four million U.S. households are unable to provide enough nutritious food for their kids, according to 2012 federal data.
Most U.S. public schools participate in the federal school breakfast program, but millions of children who are eligible for free or reduced-price breakfasts at school are not eating it, according to the Food Research and Action Center, an advocacy group.
Schwartz and her fellow researchers studied students from 12 schools in New Haven, Conn., following them from fifth grade to seventh grade and recording both their breakfast habits and their weight. There weren't many double-breakfast eaters; they accounted for only about one in every 10 students. But their weight change over the years was no different than the average weight change of all students, according to the study.
Breakfast-skippers, however, and students who ate school breakfasts inconsistently — who were more commonly girls than boys — were twice as likely to be overweight or obese than double-breakfast eaters.
Though prior studies also have found that skipping breakfast is associated with weight problems, it's not clear why the two appear to be linked. It's impossible to know for sure what's really happening without more consistent and reliable data about what people eat throughout the day, Schwartz said.
One hypothesis: People who skip breakfast become so hungry that they eat more later in the day, or they choose foods that aren't as healthy. Another hypothesis: Overweight people are more likely to skip breakfast in an attempt to control their weight.
Schwartz emphasized that free school breakfasts must meet stringent federal nutrition guidelines — and that might be one important reason why double-breakfast eaters aren't gaining weight more quickly than other students.
"It's not like these kids are eating two breakfasts of donuts," Schwartz said. "School breakfasts are very healthy. It's fruit and low-fat dairy and whole grains. So you could almost think of it as a healthy snack."
Nearly 12 million children received free or reduced-price lunch during the 2014-2015 school year, according to the Food Research and Action Center. But for every 100 children who received a subsidized lunch, just 54 received a subsidized breakfast, according to the group's annual scorecard.
In some states, the breakfast participation rate is considerably higher: West Virginia leads the nation, with 82 children receiving breakfast for every 100 receiving lunch. Next is New Mexico, with 71 for every 100; the District of Columbia, with 67 for every 100; and Maryland, with 64 for every 100.
Virginia ranked 27th, with 53 children receiving breakfast for every 100 receiving lunch. The lowest-ranking state was Utah, with just 35 students receiving breakfast for every 100 receiving lunch.
["source-ndtv"]