In the mood for some Italian? Try out this Creamy Spaghetti Chicken Charcuterie recipe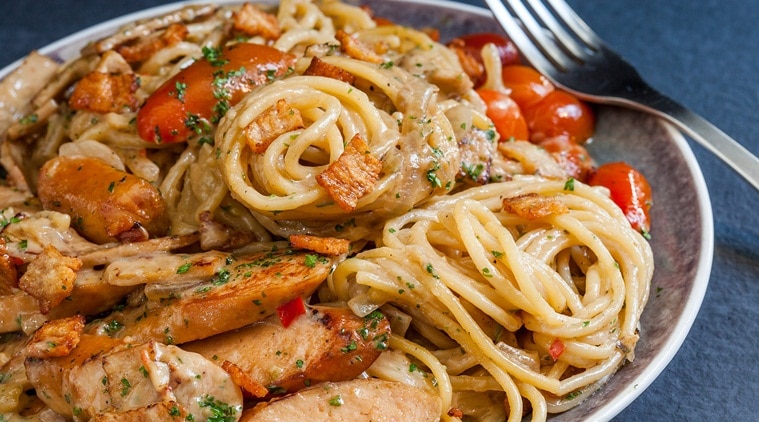 In Italian cuisine, bread and spaghetti is like what daal and chawal (rice and lentils) is to Indians and we believe this comfort food is probably what you mostly order on your outings to your favourite Italian restaurant. Cooking it 'al dente' might be tricky but it comes with some experiments in the kitchen. This recipe from Freshmenu.com is quite easy to make and also looks like gourmet meal right out of a restaurant. It is also perfect for weekday night hostings and a delight to have in the loving company of family and friends. So, put on your culinary hat and get started.
Ingredients
150g – Spaghetti
90g – Chicken frankfurter
50g – Chicken bacon
20g- Onion (julienne)
3g – Garlic (chopped)
3g – Chilli red (sliced)
20g – Cherry tomato (cut in half)
25g – Demi glace powder
100g – Water/stock
20g – Fresh cream
5g – Olive oil
3g – Salt
2g – Pepper
2g – Parsley (chopped)
Method
* Blanch spaghetti pasta in salted boiling water and strain. Drizzle oil, mix and keep it aside to cool.
* Cut chicken bacon in strips and chicken frankfurter in slices.
* Heat water in a saucepan, mix demi glace powder and bring it to boil. Simmer to a sauce consistency.
* Heat oil in a pan, sauté chicken bacon followed by chicken frankfurter. Toss well. Add julienne onion, chopped garlic and chilli to it.
* Once onion is translucent, add jus, season with salt and pepper.
* Now, toss blanched spaghetti in it and mix well.
* Add fresh cream and cherry tomatoes. Mix it well and check seasoning. Garnish with fine chopped parsley.
* Serve it with garlic bread.
["source-indianexpress"]