TeamLease Services IPO Opens: Read This Before Investing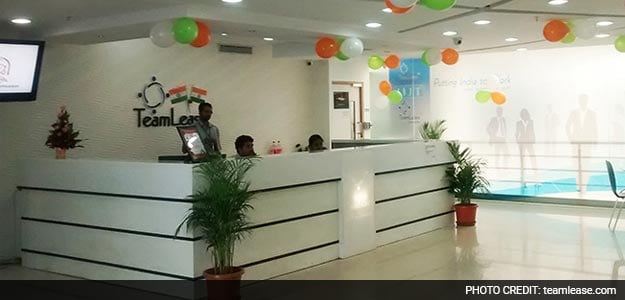 TeamLease Services, which provides blue collar as well as white collar staff across industry sectors, is selling nearly 50 lakh shares in the price band of Rs 785-Rs 850 through its initial public offer, which hit markets today.
Here are the 10 things to know about this TeamLease IPO:
1. Investors have to buy a minimum of 15 shares in the IPO which closes on February 4.
2. As of March 31, 2015, TeamLease had provided employment to around 1.2 million associates. As of November 30, 2015 it had 1.05 lakh associate employees, serving over 1,021 clients and 1,218 full time employees based out of eight offices in India.
3. TeamLease competes with players like Adecco, Randstad and Quesscorp. It enjoys the highest market share of around 6 per cent in domestic flexi-staffing industry.
4. TeamLease is looking to raise Rs 424 crore at the upper price band of Rs 850, which includes fresh issue of Rs 150 crore and an offer for sale of up to Rs 274 crore.
5. Post the issue, the promoter holding in the company will fall to 45.6 per cent compared to 51.9 per cent earlier. The fresh issue will constitute 10.3 per cent of the post-issue paid-up equity share capital of the company.
6. Out of the IPO proceeds, TeamLease Services plans to use Rs 80 crore for working capital needs, Rs 25 crore for acquisition and strategic initiatives, while Rs 15 crore will be used for upgrading IT infrastructure. (Watch)
7. Analysts say lower penetration (0.4 per cent in India compared to 3 per cent in UK and 2 per cent in US) in the flexi-staffing industry and high growth prospects(20-25 per cent compounded annual growth expected over next 5 years) will support TeamLease's growth in the coming years.
8. Intense competition, lack of pricing power and a possible slowdown in the economy are key risks in the staffing business, analysts say.
9. TeamLease had reported a net profit of Rs 31 crore on revenues of Rs 2,018 crore in FY15. Its revenue has seen a compounded annual growth rate of 30.7 per cent over FY11-15. The company turned profitable in FY13. In the first half of FY16, TeamLease reported a net profit of Rs 11 crore on sales of Rs 1,216 crore. Its operating margin has improved from a negative 5.7 per cent in FY11 to 1.2 per cent in FY2015.
10. TeamLease is valued between 40 and 45 times its FY16 estimated earnings, which is a significant premium to peers. Angel Broking has a "neutral" rating on the issue citing expensive valuation, intense competition in the industry and lack of pricing power. However, Prabhudas Lilladher has a "subscribe" recommendation on the issue citing high growth prospects, low capital expenditure and working capital requirement.
["source-ndtv"]