World's First Twins to Climb Mt.Everest: Tashi and Nungshi Malik On Food, Fitness and Dreams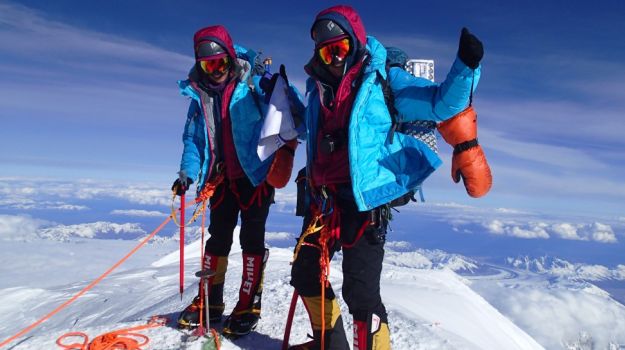 When Tashi and Nunshi Malik walk into a room, they can easily be mistaken for models. Just a few minutes chatting with these gorgeous twins makes you realise that they are just girls next door. Bubbly, vivacious and passionate, they could be just any other 24 year olds.
Except that they are not.
At an age when people are still figuring themselves and their career paths out, these two girls have already reached the pinnacle of success. Literally. They hold the Guinness record for being the first female twins to climb Mount Everest and first siblings and twins to scale the Seven Summits (the highest mountains of each of the seven continents). They have also reached the North and South Poles, making them the world's first siblings, first twins and youngest persons, to complete the incredibly difficult Explorers Grand Slam.
And they are just 24 years old.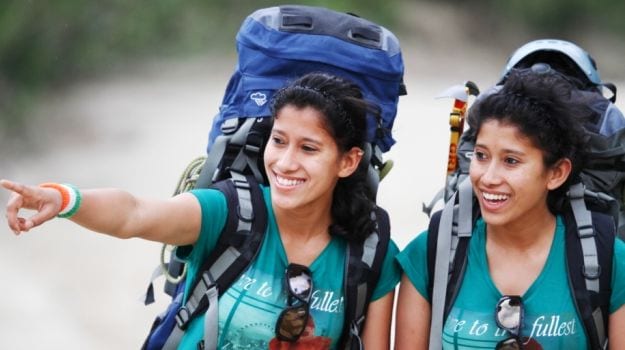 It is often difficult to distinguish between them, not only do they look similar but also voice each other's thoughts. Not only do we celebrate their achievements and dedication towards the cause of empowering the Indian Girl Child, we applaud their zeal and passion, for pursuing a path rarely trodden. Up, close and personal with Nungshi and Tashi:
1. At what age did you start climbing?
Surprisingly, this was not something we always wanted to do. Our first climb was when we were actually 18 years old.
2. When did you go beyond the holiday 'adventure camps' and actually start scaling peaks?
Once we graduated from school, our father went ahead and enrolled us (without our knowledge) in The Nehru Institute of Mountaineering and we thought, why not, it'll be fun. As we started training and realised that 'Wow, even girls can take this up'. Once we started climbing, we found that we truly enjoyed it. Also, surprisingly, our bodies were perfectly suited to this. We perform better in high altitudes than most other people, even the fittestmen who join us on expeditions often fare worse than we do. This was more of a 'calling' for us. Our performance on the mountain is phenomenal.
3. How much training is required before a big climb?
Depends on the climb but it would be safe to say that a month's rigorous training is sufficient. This ofcourse, takes into account the fact that our general fitness levels are fairly high and we have been training for so long. Each day, we train for 5-6 hours atleast. This intensive training includes cardio and weight training. When you are on an expedition, you have to carry your own backpack which can weigh anything between 20-60 kg. If you are not incredibly fit, that in itself is daunting enough.
During this period, we love how toned and muscular we get. Mom, ofcourse, is of the viewpoint that it doesn't look feminine enough in a sari (look at each other and giggle)!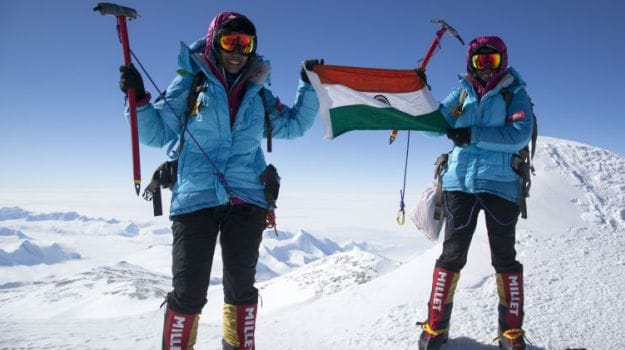 4. During the training-period, is there a diet regime you have to follow?
We have to put on atleast 5 kg weight before each climb. Mountaineering is physically very demanding and you tend to lose a lot of weight during an expedition or a climb. There was one when we lost almost 10 kg each.
The training diet is very high on protein as we need to gain mass. We have 5 banana shakes each day in addition to protein shakes. A lot of meat and fish too. 3-4 eggs every day. Also, our mother and grandmother both are fabulous cooks so we indulge in their home cooking, curries and rice. Mom makes these pinnis which are rich and incredibly nutritious, perfect for training time. We don't eat junk food. Ever.
5. Do you have a sweet tooth?
Nungshi (instantly) – Yes, absolutely. Anything, gulab jamun, jalebi, I'll eat them all.
Tashi (after much prodding) – We love sweets but I have terrible teeth due to that. In the mountains, the water is so cold that we often avoid brushing.
6. What is your usual fitness regime?
Climbing mountains (laugh). When we're not training, we are still very active. We play a lot of sports, love the outdoors and walk whenever we can instead of taking a vehicle. Regardless of training or not, we always begin our day with a 5-10km jog, it's just who we are.
We're against pills of any kind. We don't even pop a pill if we ever fall ill (and we rarely do). The outdoors are our medicine, being active keeps our body strong.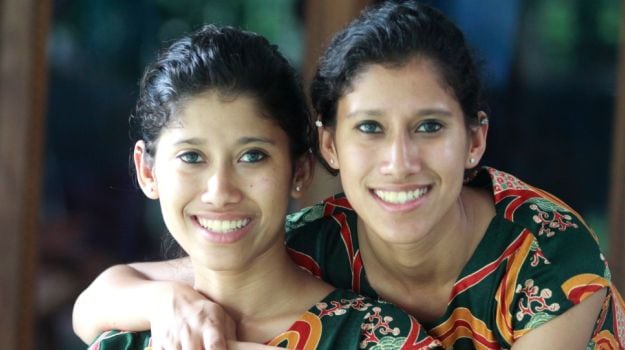 7. The scariest moment of your life?
The North Pole was perhaps the scariest expedition ever. There was this one point where the ice under our feet was a few inches only and we were scared to take the next step. We were tempted to call our parents and say our goodbyes, but somehow we carried on and made it to solid ground. The scariest time.
8. Your biggest fear?
Nungshi – I've thought of this question for the longest time. For me, it would be the possibility of losing Tashi. We've done everything together, we're inseparable. God forbid, if there ever came a moment in the mountains where I have to choose between her and myself, I don't know what my choice will be.
Tashi – Losing my dream was my biggest fear. And my dream was to scale Mt.Everest. When you accomplish something like that, somehow nothing else seems insurmountable. The largest mountains are those of fear in your own head. However, if you insist, I do confess I am terribly afraid of spiders too. They completely freak me out.
9. Who is the bigger foodie out of the two?
Neither of us. We eat to live. On the mountain, one loses their appetite. A meal is usually a couple of bites of (frozen) energy bars. We can make do with that but the body needs calories as we can burn almost upto 8000 calories a day while climbing. Thus, we force ourselves to eat.
10. The one dish you would cook to impress someone?
Tashi – Oh, this is a tough one.
Nungshi – There's this incredible chutney called the Gorkhali Chutney that I would make. Fairly common in the army circles, it is a pulpy mix of potatoes, onions, tamarind, mustard oil and a few more things.
Tashi (after much thought) – I'd cook Momos. They're incredibly easy to make and delicious to eat.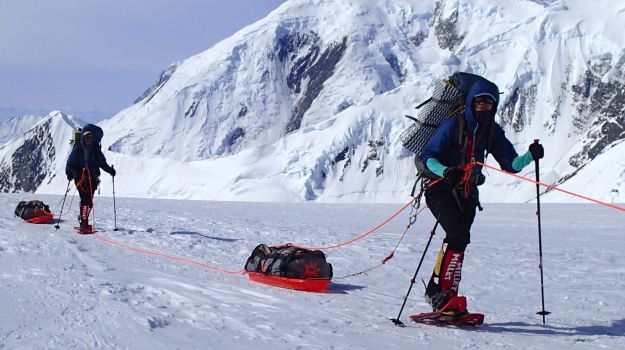 11. What happens if and when one of you decides this is not your dream anymore and finds interests elsewhere?
Nungshi – We've often wondered about this and it is a realistic eventuality. I'm very sure for the rest of my life I am going to be climbing. But god forbid, if one day, something happens and we can not climb mountains together, I may become a personal trainer helping girls follow our path, given the extent of our knowledge on the subject now. I'd also like to do something in the area of Girl Empowerment. In fact, when we were in school, me and Tashi thought that we will join the United Nations and work in the same area.
Tashi – Perhaps something in the dance field. We've learnt Kathak, Bharatnatyam and a range of other dance forms as we moved around the country while growing up. People who knew me while I was growing up, always felt that I would do something in the field of dance. Also, I'd love to write a book soon. A children's book on our experiences, the connection I have had with my sister while climbing these mountains, the choices they have to make. To ignite the passion in people to love what you do.
12. Your advice to youngsters in general and those interested in mountaineering?
We think that India has stopped dreaming. And that is a sad thing to happen. People do what their parents want them to do, follow paths laid out for them but do not think about what is something that will give them contentment.
Tashi – Be passionate about what you do and follow it. If you love what you do every day, it is but natural that one day you will get really good at it. There have been many times we thought of giving up, for financial reasons, personal and other reasons. But we didn't. We carried on. And we realised that one you set your heart on something, the entire universe conspires to make sure you achieve it.
["source-ndtv"]