6 Restaurants in Mumbai That Serve Fantastic Organic Food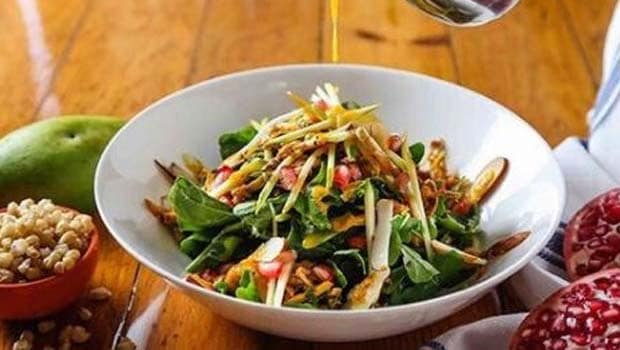 In today's time, where most of us are cautious about how we look and what we eat, few restaurants are doing a great job in helping us turn towards a heathier lifestyle. Food that is grown organically is not just healthy for you but also for the environment. Keeping this in mind, organic cafés and restaurants are transforming the eating-out scene in Mumbai with their healthy greens, vegan beverages and gluten-free alternatives pitted against gluttonous joints that have crowded the lanes for long. From salads, sandwiches and smoothies to grills and guilt-free desserts, these eateries are making sure you get your dose of health without compromising on the flavours.
1.Birdsong- The Organic Café
Tucked away in a corner is a tranquil café with a sumptuous menu that takes the idea of 'health meets taste' to a new level. The wooden walls give you a vintage feel, the while the hand-drawn graphics lend a quirky appeal. The must-haves at this café  are Herb Roasted Baby Jacket Potatoes, Kheema Pav, Cous Cous Veggie Upma and Granola Bowl with Seasonal Fruits .
Where:Shop 1-5, Waroda Road, Hill Road, Bandra West
Cost For Two: INR 1500
)
2.The Yoga House
The Yoga House is a yoga studio combined with an open air rooftop café  in Bandra. What fun! The menu has several interesting dishes like the quinoa burger, which they refer to as the 'I am Detoxifying' Burger, boasting of the goodness of quinoa, watermelon seeds, spring onions and hummus. The salads too have  a unique name on the menu, like "I am Fighting', which is their fig salad combined made with dried figs, purple cabbage, carrots, parsley and coriander, or their 'I am Fruit Filling Salad' which is packed with pomegranates, oranges, feta cheese, roasted pistachio and alfa alfa sprouts.
Where: Nargis Villa ,Sherley Rajan Road, Carter Road, Bandra West
Cost For Two: INR 1400
3.The Kitchen Garden By Suzette
For a leafy, all-organic meal , head to this cute café in Powai. From Buckwheat Pancakes and Chocolate Granola to Sourdough Bread and Baked Eggs, The Kitchen Garden by Suzette offers some of the most exciting and wholesome breakfast options in town. Their signature salads and sandwiches are also great for brunch or a quick meal on-the-go. You must try their Chicken and Avocado Caeser Salad, Hummus and Feta Sandwich, Blue Tokai  Cold Brew Coffee and Powerhouse Smoothie in Cocoa and Banana Base. We're drooling already!
Where:8/9, Gasper Enclave, St. John Street, Pali Naka, Near Suzette, Pali Hill, Bandra West
Cost For Two: INR 1100
4.The Village Shop
Whoever thought that organic food is just healthy and boring was wrong and the Village Shop shows you why. Choose from a range of gluten-free cakes and pastas along with other delights like salted caramel banana smoothie, shitake mushroom burgers, kheema pav, lamb stew and lasagna with avocado sauce. This place can really impress you with their variety as well as flavours.
Where:53, Serpis Villa, Chimbai Road, Hill Road, Bandra West
Cost For Two: INR 1000
5.The Sequel Bistro and Juice Bar
The Sequel Bistro and Juice Bar has become one of the trendiest and the most sought after cafés in Mumbai. Lined with wood and Ikat upholstery, the café imports its ingredients like the stone-ground chocolate for desserts from Mexico and the organic white and black quinoa, acai berries and cacao from Peru to make sure you have  a healthy and wholesome experience. Salad junkies must try their Red Pirate Salad which is a mix of quinoa, kale, roasted baby beets, roasted baby carrots, roasted chickpeas, red apples and prunes. The Autumn Afternoon Salad is also a great choice. It made with the goodness of organic tender kale, zucchini, grated carrots and roasted chickpeas, tossed in a lovely dressing of organic extra virgin oil, raw honey and lime.
Where: Shop 2, Solace, 33rd Road, Near Eye Max, Pali Hill, Bandra West
Cost For Two: INR 1300
6.The Pantry
Bringing you a pantry of fresh organic delights, this restaurant is famous for many delicious dishes. From Home-baked Granola with Honey and Vanilla Kefir Milk to Quinoa Crepes,  Pesto Cottage Cheese and Broccoli Puff and a fresh Avocado Salad, The Pantry will leave you spoilt for choices.
Where: Yeshwant Chambers, Military Square Lane, Near Trishna, Kala Ghoda, Fort, Mumbai
Cost For Two:INR 1000
This time around, head out for a new experience that will leave you and your taste buds satisfied. Do you have any favourites that we missed?
["source-food.ndtv"]