We give people their humanity back': inside Croatia's pioneering mental health centre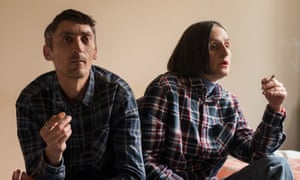 High walls still surround the oldest asylum in the Balkans, an 18th-century building pocked with the artillery scars of last century's civil war, but the gates are no longer locked. Handles have been replaced on internal doors and bars removed from windows.
"The jail," said Darko Kovaoic, a 53-year-old poet with schizophrenia who lives here, "has broken open."
The institution in Osijek, eastern Croatia, is run by Ladislav Lamza, a former social worker who is taking on the government, the health minister, and his own staff to transform the lives of his "beneficiaries" – the patients of what was until recently an old-style asylum.
It was in May 2015 that Lamza ripped down the sign outside – replacing "Home for the Insane" with "Centre for People Like Us" and began moving people out.
"We express many things in that small sentence," said Lamza. "Because what we have done for the past two centuries is the opposite. We've said: 'You are not like us, you are ugly and mad and I'm not like you.' This is where we exclude, stigmatise and restrain people for the rest of their lives.
"We have people in need and we provide inappropriate help and the result is catastrophic. I never knew anyone who was rehabilitated. We make equality between criminals and people with disabilities."
Lamza's transformation of the centre caused shock and upset: one member of staff pointed out that these were people who should have been "exterminated".
In four years, 172 out of 200 people have been successfully moved into shared flats dotted around the small city, with carers from the centre visiting them as needed.
As his institution emptied, Lamza ditched the metal bed frames and stained mattresses. Although the paint still peels and the furniture is scratched and sagged, he has turned the bleak, soulless wards into rooms for day classes, a library and a bright cafe where former patients demonstrate how to make pancakes and brew tea for other ex-patients who come by daily to grow cabbages in the gardens or to chat with staff. Staff are no longer janitors, nurses, cooks or cleaners, but all re now "care assistants". The transformation, says Butkovic Jadranka – formerly a hairdresser here, now running sewing classes and shopping and theatre trips – is amazing.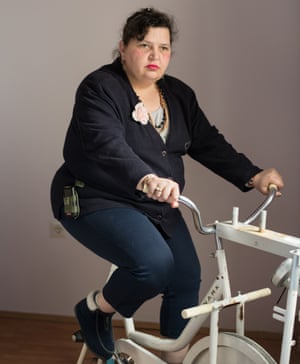 "When we first heard of the director's plans, I was fearful, everyone was fearful, we thought perhaps he had gone a little crazy. But now everything is completely different. Before it was like they were objects, slightly out of focus objects. Just numbers. Like on a conveyer belt. I never asked anyone's name. Now they are my friends. People are not dangerous lunatics, they have become citizens, they have become neighbours."
It is 10 years since Croatia signed the UN's Convention on the Rights of Persons with Disabilities but Osijek is the only one of Croatia's 24 mental health institutions, which house a total of 6,700 people, implementing its spirit. "We signed this with our fingers crossed behind our backs. The government still wants people locked up, locked away. People with disabilities, whether mental health or physical, have rights. There are four reasons why inclusion is better than exclusion," said Lamza. "It's better for a person, it's better for the community, it's legal, it's cheaper." He says the cost per person per month in an institution is $1,260 (£950). "In the community, even with the maximum 24-hour support, it is $1,020.
"The first day I let people go I didn't sleep: will she hurt someone, will he cope? But there have been no problems. People have thanked us for giving them the best neighbours they have ever had!"
After 12 years in institutions, Branka Reljan, 55, has spent three years living in the community, in a shared flat with her partner Drazenko Tevlli. She speaks fluent German and English but has suffered mental health breakdowns since university and has let go of old ambitions. Now the couple take great delight in visiting cafes and shops. "We met in the institution but love is not allowed so we lived a secret for 11 years. I say I was in prison before. Now I love to make apple pies and buy spices and oils for cooking. It is wonderful for us to have our own keys, to buy fresh juice and to take a bus. We are satisfied with our neighbours. We are happy."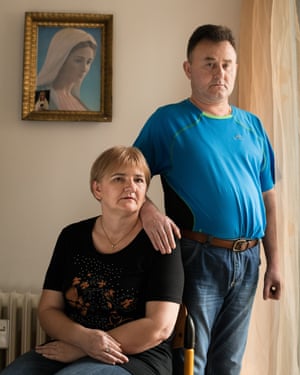 If other asylums in Croatia had any desire to follow Lamza's care in the community model it would be more difficult. Most were built far from towns.
Rada Matos is the director of Ljeskovica home for mentally ill adults, deep in the Pozega forest, an hour's drive from Osijek. Lamza describes it as "a warehouse for lost souls". Matos says she does her best for the 284 people here but points out that Croatia is a poor country and mental health is both under-resourced and stigmatised. "We have no psychologists and no psychiatrists, no professional is interested in coming out here to work, yet perversely we are the main employer in the area for unskilled workers. It's too far for relatives to visit and there is no community for people to live in even if I had the resources to try. There is a tiny village of uneducated people to whom this is the madhouse."
There is a long waiting list to come here but few leave. "Maybe two a year," she said. "We try to explain mental health is an illness, we invite in families, school groups. But what I'd really need to do is move this building somewhere else, somewhere where there is a community."
Around the grounds and in the corridors, people stand or wander in shabby clothes too big or too small. Miryama Nikoli, 38, is new to Ljeskovica but has been institutionalised for 18 years. Eyes glazed by medication that hasn't been changed in all that time, she talks to everyone about her daughter, taken away as a baby. "I was sick because of my nerves but now I suffer because of my baby," she says. "I drink the medicine but I want to see her again." Matos pulls out her file; her background is heart-breaking and abusive. One line mentions the child, who will now be 18. The file contains four A4 pages.
In Osijek the belief is that lives are better on the outside. Care assistant Vlatka Griner said the hardest task in moving people into the community was to make them use chairs: "At the asylum, they squat in the corridors, smoking. Squat, smoke, move a bit and squat again. What else did they have to do? In only slippers, just slippers because they never went out. When they are in the apartments the hard thing is to get people to sit in chairs. It can take a good two months.
"Then they go to the shops, buy their own food, buy their own clothes, run their own lives. Brush their hair. They're unrecognisable."
It is not a solution for everyone. Back in Osijek, Zdenko Kovac, 64, is a convicted murderer and, although he claims the scars on his head are from an axe wielded by his wife and he is not deemed dangerous enough for a secure hospital, he has failed to cope outside and is back in the institution where he wants to stay "until I die".
"He is someone I worry about," admits Lamza, "he wants to stay and ideally he will." For others, it was never the right place. Luka Bobanovic, 36, caught a fever aged seven that left him brain-damaged. His mother handed him over to state care and he has been bounced around from institution to institution. "When he came to us he was very disturbed," said Lamza. "Eight times Luka went through a door or window, either him chasing staff or them chasing him. The doctor told staff to tie him to his bed. I found him like that, tied to his bed, crying for his mamma. The staff shrugged and told me 'we are scared of him'."
Now he lives in a small bungalow with three other beneficiaries and round-the-clock care."Our work doesn't end when people live outside the institution," said Lamza. "We are supporting them to live like every citizen of this town, to fall in love, dance, eat pancakes. I want to give people back a reason to live. That is what we have been taking from them, their humanity.
"I'm ashamed of how people lived before, but I'm happy," Lamza said, "because they're happy."
source:-.theguardian.