Google Voice Access Beta Lets You Control Your Smartphone by Voice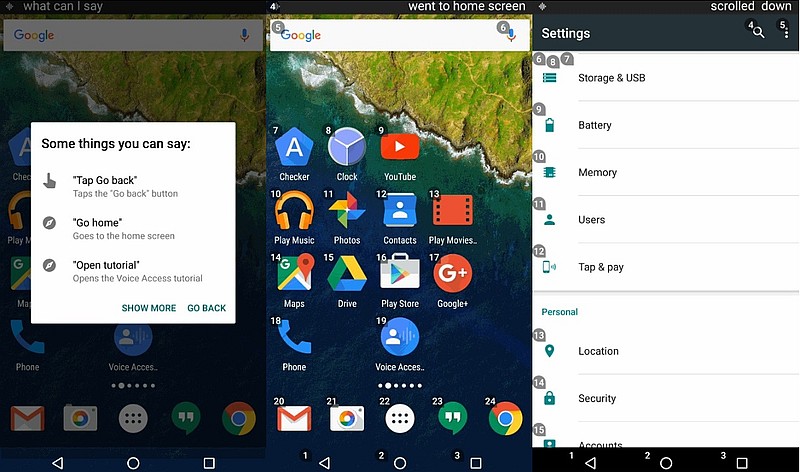 Google was supposed to introduce its 'Voice Access' service back at last year's Google I/O conference, but never did so. The search giant has finally launched an 'Voice Access' beta app using which people can control several more features of their smartphones with voice commands.
Users can now give commands such as 'Open chrome' to open the browser or 'go home' to navigate back to the handset's home screen. Unlike other voice apps, the voice access beta app gives you access to some commands which can be used from anywhere in the smartphone's interface. It also overlays several numbers on apps and elements letting people access exactly what they mean. For instance, you can just say '8' to fire up an app ensuring that the Voice Access app doesn't confuse the pronunciation with another similar sounding apps.
"We recently launched Voice Access Beta, an app that allows people who have difficulty manipulating a touch screen due to paralysis, tremor, temporary injury or other reasons to control their Android devices by voice. For example, you can say "open Chrome" or "go home" to navigate around the phone, or interact with the screen by saying "click next" or "scroll down," said Eve Andersson, Manager, Accessibility Engineering at Google on the company's blog post.
Google also has a dedicated page from where users can download the beta app (currently at v1.0). However, on the page now says that the app is already available with enough testers so for now it is unavailable to download. However, there will be a public rollout in future. In the meanwhile, interested users who want to experiment can download the Google-signed app from APK Mirror to sideload.
In the blog post Google also talks about its other efforts in the accessibility field. The search giant has introduced an Accessibility Scanner tool for Android to let developers test their own apps and receive suggestions on ways to enhance accessibility. Android N beta update now comes with the Vision Settings feature to let users control settings such as magnification, font size, display size and TalkBack.
For Chromebooks, Google has brought a new beta version of ChromeVox screen reader. The tech giant added that its Google Docs also lets users edit, type, copy or insert table using voice commands, something which it introduced in February this year.
["source-ndtv"]