Research Review Focuses On Potential Health Benefits Of Pears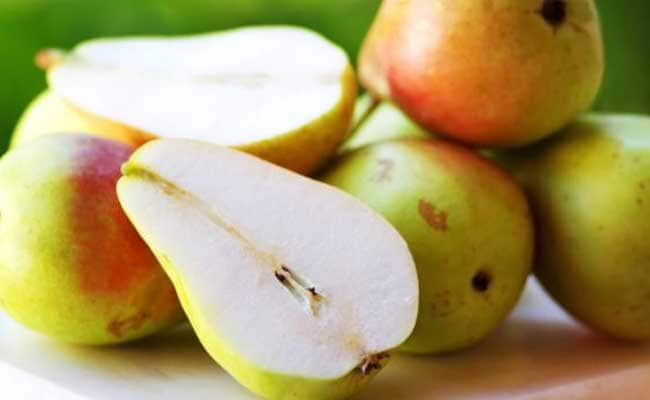 HIGHLIGHTS
Review of studies attempts to outline health benefits of pears.
Pears are excellent sources of fiber, sorbitol and potassium.
USDA guidelines recommend eating more fruits.
Who doesn't love to bite into the juicy, bright green pear? It's as much a fruit to be eaten raw, as it's a delight to cook with. Now new research review has systematically attempted to study the health benefits of pears, hinting that regular pear consumption might be healthier than we earlier thought, and might even aide weight loss, due to the presence of good amounts of dietary fiber. Joanne Slavin, Ph.D., R.D., professor of food science and nutrition at the University of Minnesota, St. Paul was assisted by food science graduate Holly Reiland, and the two conducted a review of the studies published between 1970 and the present.
The studies reviewed by the two scientists were archived in PubMed (database of the National Library of Medicine with citations and abstracts of biomedical literature) and Agricola (database of the National Agricultural Library with citations of agricultural literature). It was found that pears may be ideal for those wanting to lose weight, as they are excellent sources of dietary fiber and Vitamin C, for only 100 calories per serving. A medium-sized pear contains enough fiber to meet 24 percent of your daily needs. Moreover, pears are sodium-free, fat-free, and cholesterol-free, and they also contain good amounts of potassium.
The review was conducted to fill in the lacunae regarding the health benefits of individual fruits, including pears. The USDA Dietary guidelines recommend eating more fruits as part of your daily diet, to offset the risks of chronic diseases, but there is little that is said in researches, regarding the health outcomes of consuming various fruits. In this new review, focusing on pears, it was found that pears contain fructose, sorbitol and dietary fiber. However, the researchers found that the body of work done on studying the relationship between pear consumption and health outcomes to be 'sparse and diverse'.
["Source-ndtv"]