A Hidden Gem in Sarojini Market You Must Visit for the Best Amritsar Kulchas in Delhi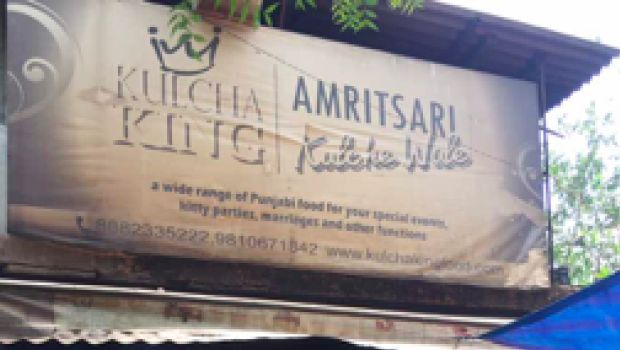 Apart from claiming the title for being the ultimate shopping haven, Sarojini Nagar is also home to a hidden gem which may have not been given the attention it deserves but all that is about to change now. Going by the name of Kulcha King, this dainty joint revels in its modest environment but is a priceless discovery.
Situated as Shop No. 144 in the Ring Road Market of Sarojini Nagar, Kulcha King is not a big shop with flashy boards, but it's not easy to miss it, owing to the crowd that assembles around the shop as soon as it open around 9 A.M every day. The setup is humble with only a few tables set out for convenience. Started in 2009 by Avtar Singh Bagga who hails from Tehsil Ajnala in Amritsar, the Kulcha King owner faced a fair share of deliberations and difficulties prior to bringing this food joint into existence. Avtar Singh began his career with a transport business, but he was unsure about his growth in this sector because of which decided to switch jobs. Later, he started dealing in foreign currency but this was not successful as well.
As if by destiny, Kulcha King was meant to come into existence. Finally, Avtar Singh opened a joint selling original Amritsari Kulchas in Sarojini Nagar which became an instant hit with the local audience. Currently, the shop is run by his son Harjeet Pal Singh, a graduate in fine arts from Punjab University, who has taken upon himself to carry his father's legacy forward.
While the food joint is not known by many, those who do know swear by it as their go-to destination for perfectly cooked kulchas, citing them as the best in all of Delhi. The menu lists out options of mix kulcha (Rs. 60), masala kulcha
(Rs. 70), paneer kulcha (Rs. 80) and masala paneer kulcha
(Rs. 90) with the evergreen sides such aslassi (Rs. 30) and raita(Rs. 20). Everything is reasonably priced, thus offering quality and quantity without burning a hole in your pocket.
The staff works tirelessly, stuffing a complex mixture of fillings (comprised of potatoes, onions, cauliflowers, fenugreek, ginger, coriander leaves and other spices) into the dough, and slapping it onto the tandoor to cook. The kulchas come out fresh and earthy, bursting with the flavours of Punjab. They are routinely crushed, to bring out the crispiness of the kulchas, and then generously topped with dollops of soft butter. They are served alongside tamarind chutney, a mixture of spring onions, red onions, black salt and cumin powder, and a spoonful of chhole or chickpeas.
The chhole served are not greasy or extremely spicy, and taste just right. Ravinder Bun, a long trusted member of the staff, is happy to refill the customers' plates with second helpings of the sides. Lovingly known as Kukku, he smiles radiantly and tells us that many of their college-going customers often drop by Kulcha King only to have a conversation with him and it's not hard to believe that given his lively nature.
After 5 P.M up until 10 P.M, the kulcha menu is replaced with a dinner menu which comprises of varied dishes such as Afghani soya, malai chaap, chaap tikka, achaari chaap, paneer, soya keema served with rumali roti which are as delectable as the kulchas. Kulcha King offers a home delivery service too. The expansive scope of their business has also allowed them to venture into catering for weddings and functions. While the Sarojini Nagar joint is the first branch, they have opened another one near the Bangla Sahib Gurudwara in Connaught Place. Kulcha King offers great quality and gives tough competition to other joints in the market making it secure one of the top spots in Delhi's street food scene.
Harjeet Pal Singh: +918882335222

Ravinder Bun: +919643676146

["source-food.ndtv"]