Is there a consommé at the Nobel banquet this year? Well, Chef Mark Phoenix lets us into the culinary side of the Prize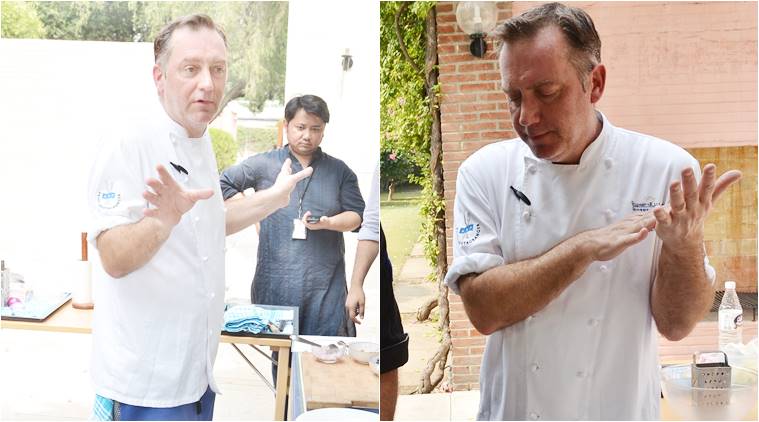 Come December 10, the 45-member kitchen at the Stockholm City Hall will be buzzing with last-minute preparations. A contingent of 200 servers will serve 1,350 guests trying to best the previous record of fastest serving at the Nobel Banquet – 6 minutes and 50 seconds. Now, we are not quite sure whether 2016's most controversial Nobel laureate Bob Dylan would be one of those dining or not (given the mystery that has continued ever since the award was announced on October 16), but 10 other laureates with their families, around 250 students, many dignitaries and Swedish royalty will be present, and nothing short of perfection will be acceptable.
In India for the Nobel Week is a man who has been involved with the highs and lows of the Nobel kitchen since 2006. Though, of late, his has been more the role of a consultant, Chef Mark Phoenix – with the occasional twinkle in his eye, and more generally the air of someone who would rather be in the kitchen than out talking about it – has many stories to tell. After all, the Nobel Banquet, held on the birth anniversary of Alfred Nobel, has been a prestigious occasion ever since it was instituted in 1901. Phoenix, though, has only been involved in 10 of those, since 2006.
"We start preparations from March, when the Nobel Foundation chooses a celebrity chef to decide the menu. There are several tastings and all the three courses are decided," says Chef Phoenix. Apparently, the team also tries all the possible wines that would accompany the food, so that a perfect match can be found. But the exact menu is a well-guarded secret.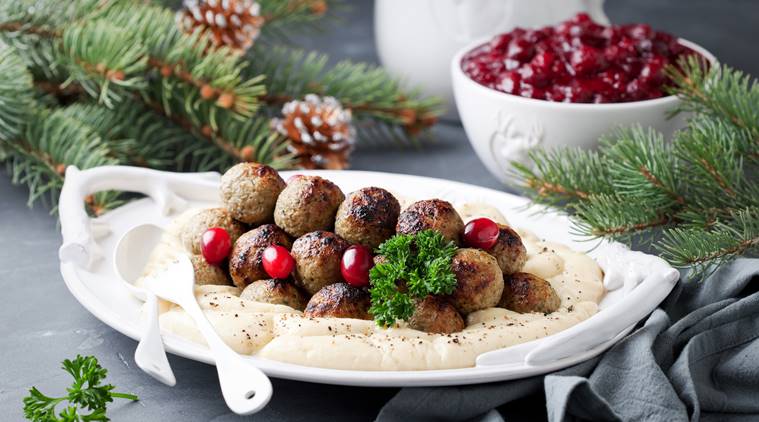 Swedish meatballs with mashed potatoes and cranberry sauce. (Source: Thinkstock Images)
There is little room for error in this gargantuan operation, yet sometimes things to go amiss. "One time, at the start of the service, one of the sous chefs took the first platter all ready to serve, and it slips. Right at the start! There was silence in the kitchen once we realised what had happened. Thank God, we had 20 extra dishes (which is all the extra they ever have). After that, nothing could go wrong," shares the chef, who himself once broke a champagne glass. Just once!
Running a kitchen that caters to such prestigious events doesn't come without challenges; and some of them are universal. Tardiness being one such issue. Since no one wants to really work on the special menus (those catering to guests with special requirements, such as gluten-free, vegetarian, etc.), Errixson (Gunnar Errixson, who has been leading the Nobel kitchen for as long as Phoenix can remember) had once stipulated that whoever came in late would have to work on that section. "People started coming in early! Very early. I would turn up at 6.30 am! Of course, that plan didn't last long," says Pheonix. Apparently, the system was later replaced with a more official chit system. "But you could still get out of it if you spoke to Gunnar beforehand and promised extra hours," shares the chef who has obviously used the method several times.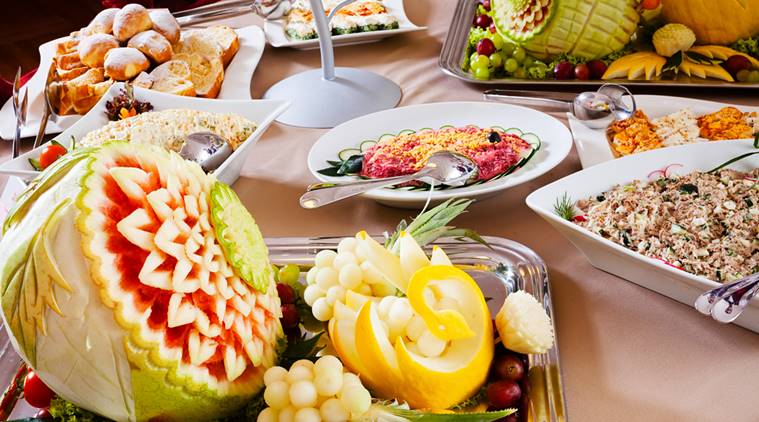 A decorated Swedish table. (Source: Thinkstock Images)
In a culinary career spanning 29 years, Chef Phoenix has previously worked in India (2003-05) and Bangladesh, and is not only well-versed with Indian cuisine, but loves it too.
"But tomorrow, anyone who eats only Indian food will be in for a surprise," says the 48-year-old, talking about the Nobel Banquet replica that was due at the Swedish Embassy in New Delhi. "One daal, one rice… and the rest…It's all Swedish food — tarts and goat cheese, truffle vinaigrette, crawfish, lamb fillet with cinnamon red sauce, and a version of chocolate truffle" – the menu, which is inspired from the 2002 Nobel fare, sounds equal parts exotic and scary for someone not used to Scandinavian cuisine, which happens to be a fair chunk of the Indian populace.
Not that Stockholm, where Phoenix stays, is that familiar with Indian cuisine. The British chef, who is married to a Swedish national, has found only one decent Indian restaurant in the capital city, and even that's not too great. Which is why, whenever he's in Delhi, he makes it a point to visit his favourites – Bukhara, La Piazza, The Orient Express and "1911 at The Imperial, I love the food there", he says.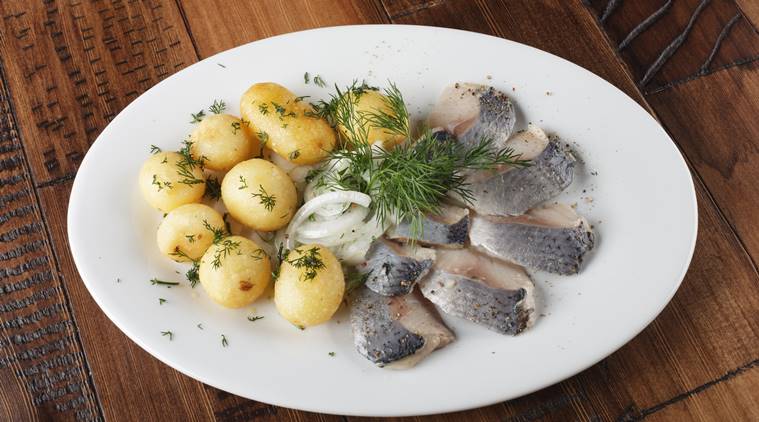 Herring fish with young potato on white plate. (Source: Thinkstock Images).
Interestingly, Phoenix is not a huge fan of fusion food. Remarking on the increasing interest in the style, the sceptical chef believes Indian cuisine has so much variety on its own, without having to bring in other influences. For those who want a taste of the more global Nobel cuisine, there is the option of heading over to Stockholm and sampling the menu from whichever year they fancy. Yes, for a mere 1,500 kroner (Rs 14,000 approx), per person, one can choose any year (and the menus are all available online); 2002 and 1994 are apparently the most popular. And should you want the cutlery and crockery too, feel free to write out a cheque for 30,000 kroner (Rs 2.9 lakh approx) – a small price to pay for an almost-authentic Nobel Banquet dinner (minus the laureates and nobility).
So, what's on the menu this year? I attempt once more. Phoenix shakes his head in a 'No' slowly. What one does assume, though, is that this year they'll attempt to break the serving timing. Six minutes 40 seconds, I suggest. "Maybe. IF there is no consommé. Imagine serving that to 1,350 guests." So, there's a consommé? "I said IF", comes the reply with a sense of finality.
The Nobel Banquet menu is definitely kept under wraps as much as the prizes themselves.
["source-indianexpress"]