Gwyneth Paltrow's weird lifestyle brand Goop is coming to Netflix, so here's everything you need to know
If she were an Irish woman, she'd be the type of person walking around sipping on a kombucha, with a yoga mat rolled up on her back, on her way back to gentrify Stoneybatter, where she'll go home and read an article about the ways in which LSD can improve your sex life, while doing kegels.
As we all know, she's not an Irish woman, but she's the exact type of person that a very particular type of Irish woman looks up to, mainly because of her batshit lifestyle brand, Goop. At any given time, Goop's website features headlines that seem like they were written by somebody attempting to parody the brand. For example:
"Is 10 Days of Complete Silence the Key to Better Mental Health?" 
"Why It's Essential Women Begin to Understand Their Energetic Boundaries" 
"Healing Your Aura" 
"The Science and Shamanism of Psychedelics" 
"12 (More) Reasons to Start a Jade Egg Practice" 
"The Chakra-Based Diet" 
"The Greener Ways to Die"
"The Secrets of Orgasmic Meditation" 
And so on. It's like if you gave that one person you don't want to get stuck talking to in the smoking area their very own website. As long as it has existed, it's been a great source of entertainment for people who are in awe of how out of touch rich, white women in their forties can be.
If you think that's an exaggeration, please take a moment to remember this Paltrow quote from December:
Forgive me if this comes out wrong, but I went to do a yoga class in LA recently, and the 22-year-old girl behind the counter was like, "Have you ever done yoga before?" And I literally turned to my friend, and I was like, "She has this job because I've done yoga before."
Source: Kay Blake
If that's not enough, look back at the first sample headline there – how many people do you know who could afford to take ten days out of their lives to remain completely silent? (Apart from Bette Porter from The L Word). Most people just don't have the time or money for any of this carry-on.
The absurdity of it all becomes much clearer every Christmas when Goop's gift guide is launched, suggesting that readers buy their loved ones $244 'toothpaste squeezers' or a $140,000 caravan in the middle of the desert.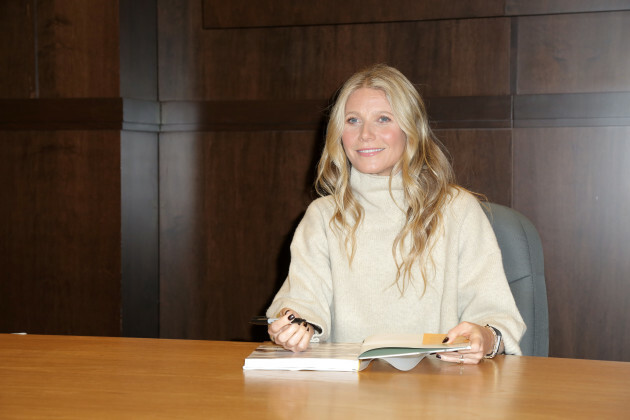 Source: Kay Blake
And now she's bringing it all to Netflix.
The Oscar-winning actress revealed that she's currently working on a new series that will be released on Netflix this autumn. The series is yet to be named, but according to Variety, it consists of several 30-minute episodes hosted by Goop's editors – Elise Loehnen and Paltrow, herself.
The series will look at all of the topics Goop loves to tackle – not just physical and spiritual wellness but mental, physical and sexual health, and how to live an "optimal life".
Loehnen told Variety:
We were speaking to the platform question, and where our people are. They're watching Netflix. Some of the more strategic, bigger stories we want to tell require a TV budget. Obviously, there's no better partner in that.
So, we can all look forward to cosying up in our hovels and stuffing our faces with junk food while watching (what we presume will be) Gwyneth and her team do things like test out different healing crystals and share brunch recipes that incorporate peyote.
Whether we actually learn anything from Gwyneth's new show or not, we already know that the entire internet's going to be talking about it for weeks.
In order to put the show together, Goop are going to "pause production on its quarterly print magazine and resume publication after the Netflix series hits." On top of the Netflix series, Gwyneth's also taking Goop in another unusual direction. She signed an exclusive podcast deal with Delta Air Lines, meaning that podcast will only be distributed by the airline company. If you want to hear it, you'll have to book a flight on one of the 600 participating Delta planes to listen to all eight episodes.
["source=dailyedge"]